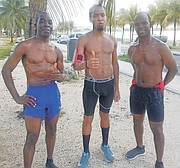 By BRENT STUBBS
Senior Sports Reporter
bstubbs@tribunemedia.net
Oneil Williams proved why he is the newly minted Bahamas men's national marathon record holder.
In an early Saturday morning exhibition run where the winner took the whole hog cash prize, Williams ran away from Mackey Williams and Sidney Collie in an estimated 13-mile run that started and finished at Montagu Bay.
The three top notch local competitors left Montagu Bay and headed west over the old and new Paradise Island bridges to Goodman's Bay and on their return they went over the new and old bridges and finished at Montagu Bay.
"The guys wanted to test themselves and test me to see how far or how close they are to me," said Williams, who clocked about one hour and 20 minutes to remain undefeated against his two rivals.
"I do believe that Marathon Bahamas will be a big showdown for Sidney and Mackey depending on whether they do the full or half marathon. They just wanted to test themselves to see where they are right now."
Williams, who had intended to go to Amsterdam to compete in a marathon, said after he was forced to return home two months ago from his training in Kenya, he has found it difficult to secure any funding to assist him.
"I made up my mind that if I do well, I will continue, but if I don't, I will call it quits," said Williams about competing for the Bahamas. "Every year it becomes tedious trying to represent the country. I can't get any sponsors.
"The Ministry (of Youth, Sports and Culture) just sent me a letter saying they can't give me any stipend and a couple of sponsors pulled out," he said.
For the past six years, Williams has been in Kenya training.
In December, his training paid off as he eventually broke the Bahamas national record at the 35th Ameris Bank Jacksonville Marathon in Jacksonville, Florida in a time of two hours, 30 minutes and 35 seconds.
But even after he replaced the old mark of 2:34:00 that was set by Grand Bahamian Delroy Boothe in December, 1999 in Jacksonville as well, Williams said he's disappointed that he can't generate any funding to assist him to further his track and field career as a long distance runner.
During his last trip to Kenya, Williams, 35, spent about a month training with Mitchel Curtis in June and he made sure that everything was in place for them.
"I enjoyed the time we spent in Kenya," Williams said. "They know it comes with hard work. They saw Mo Farah, who encouraged them to continue at it. They are good ideas and I'm looking for big things from them in the future."
Mackey Williams, who trailed Oneil Williams by about 10 minutes, said it was a great exhibition, even though he was hoping he and Collie would have made it a closer finish.
"This is where you have to test your body to see where you at, rather than you just running by yourself," Mackey Williams pointed out. "Anybody can look good running by themselves. But under competition and pressure, you really get to see where you're at."
As the orchestra of the exhibition, Mackey Williams said they could try to do it once every month or at least every quarter, if they can get some funding to sweeten the jackpot.
"It will keep you on your Ps and Qs, rather than you waiting for a road race, which could be two or three months later," he pointed out. "At least you know where you are and you just go from there."
Mackey Williams, the elder of the trio at 49, said Oneil Williams gave him a run for his money and he took it all in the winner's take all cash prize of $150.00. "He gave me some blows, I took them and gave him some too," Mackey Williams quipped. "But, at the end of the day, he proved that he was the best man. He got away after we went over the second bridge and he started to open up the gap. I tried to conserve my energy because I know once you go down, you have to come back."
Mackey Williams said if Oneil Williams is in town, they will attempt to put on another exhibition run in a month or two.
Collie, who trailed the two, said it was good to get in the workout as he's slowly getting back in shape.
"I appreciate it and hopefully this will be a wake-up call for me as I get closer to Marathon Bahamas," Collie stated. "They woke up the sleeping giant in me, so it's going to be crazy going into Marathon Bahamas.
"I was also trying to preserve some of my energy, hoping that they would break up, but they surprised me and they continued. I realised that I was in trouble and I couldn't do anything. I shouldn't have let them go on the first two bridges."
Collie, 39, thanked God for allowing them to all make it through the run and he indicated that he too is hoping for a rematch where they can really show "who is the best man standing."
The three distance runners are also contemplating competing in the Road Masters Midnight Half Marathon run that is scheduled in November, which they hope to use as a warm-up for Marathon Bahamas in January.