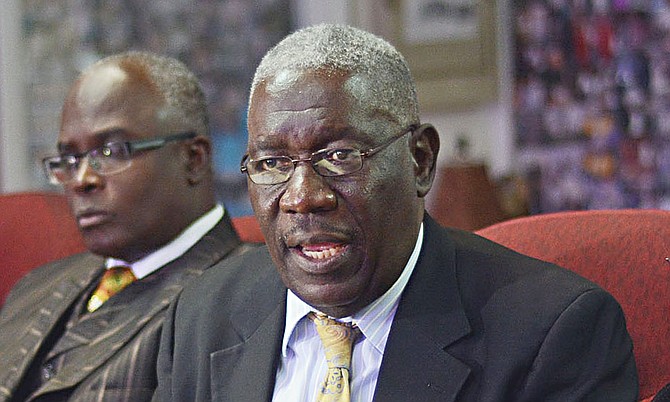 By RASHAD ROLLE
Tribune Staff Reporter
rrolle@tribunemedia.net
THE government committee to review marijuana criminalisation laws in the Bahamas has not yet been appointed.
Bishop Simon Hall, one of the persons Prime Minister Dr Hubert Minnis has said will be appointed to the committee, told The Tribune yesterday he has not received any official instructions from the government.
"I'm still waiting the formal indication as to the formation of that committee," Bishop Hall said.
"I'm waiting on government. The wheels of government move slow. I see the doctors' fraternity is having something on medicinal marijuana and I think the way it is that the whole Caribbean is moving in that direction. We should be the headlight, not the taillight."
Bishop Hall did not call on the government to move faster on the matter, but he said: "I'm not sure what is their pace, their hesitancy or what it is they are doing. I don't want to preempt them but I know the rest of the Caribbean is moving forthwith with this matter."
More than four weeks ago, Dr Minnis told the press members of the cannabis committee would receive their terms of references and begin exploring public opinion on the issue within a "week or two."
The committee follows the July release of a CARICOM report that called for the end of prohibition against the plant. That commission found that early 20th century moves to designate the drug as dangerous and without value took place absent of scientific or medical data and has since been proven inaccurate.
"The analysis of the comprehensive information gathered indicates that the current legal regime for cannabis/marijuana, characterised as it is by prohibition and draconian criminal penalties, is ineffective, incongruous, obsolete and deeply unjust," the commission reported.
Asked about the matter last month, Dr Minnis said: "The approval of a marijuana committee has been approved by Cabinet. The make-up of the committee was approved. We now have to write the various different entities, the Chamber of Commerce, the University of the Bahamas, COBUS, business leagues, various entities, so they can send their representative, inclusive of the Christian Council.
"I can say that (religious leader) Simeon Hall who has been on the CARICOM marijuana committee will be on such a committee – they should be receiving their letters within the next week or two after which they will be given their terms of references and provided with the CARICOM report and we will hope they will be able to complete their work in three to four months as we have said."
Other marijuana related activities are slated for this year.
Dr Lynwood Brown and Dr Marcus Cooper have been given approval from the Ministry of Health to host two medical marijuana conferences.
Dr Brown has told The Tribune he plans to bring experts and industry stakeholders to the Bahamas to educate people on medicinal cannabis products, treatments and modes of delivery. Though hardly accessed, legal pathways already exist for medicinal uses of cannabis in the Bahamas.