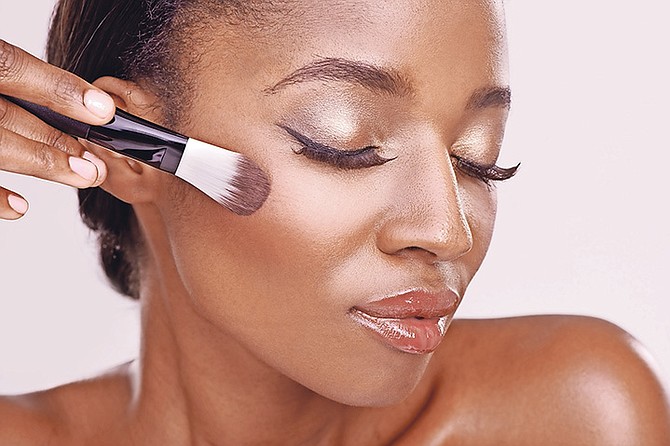 By JEFFARAH GIBSON
Tribune Features Writer
jgibson@tribunemedia.net
Magazine ads, TV commercials, and let's not forget all the YouTube beauty gurus, will have you believing that high-end make-up is a must if you want to look your best. So you end up visiting expensive stores, either in person or on the internet, and "blowing a bag" on only a handful of cosmetic products.
Then, when you start feeling a bit uneasy about all the money you've just spent, you start justifying your purchase to yourself and others.
You think: "It's brand make-up and it feel likes butter on the skin. I don't mind that I spent almost $200 and only got three items. This is good make-up and is going to make me look like a new woman."
With hundreds of new products flooding the market every week – and famous make-up artists, media personalities and internet gurus constantly plugging them on all online platforms – many women feel pressured to have these expensive, brand name items in their cosmetic bags; they are made to feel as if they can't live without them.
No doubt, many high-end items live up to the hype, but there are also countless others that completely fail in what they promised to do. So is having a bag filled with expensive make-up really necessary? And if you do decide to fill your kit with these products, what are the best choices to ensure you are effectively managing your make-up budget?
Professional Bahamian make-up artists shared some of their insider tips with Tribune Woman on when to save and when to splurge.
Marketing hype
Make-up artist LucyLu said it's the ever-evolving marketing that creates the hype around new products, sending the message that consumers need to have a specific product unless they want to feel left out.
"High-end brands have all these fancy bags and fancy packaging and it makes you want it. It makes you feel like you need to have it," said LucyLu, who specialises in bridal make-up.
As a professional make-up artist who has been in the industry for almost a decade, LucyLu said her kit is filled with both high-end and lower end brands.
"I have a range of low-end foundation and high-end foundations. To me it really doesn't make a difference. I use them on all of my clients," she told Tribune Woman at a recent Black Opal cocktail event.
What counts for the the local make-up artist is the colour match; this is how she determines what brands to use.
"Some foundations are too yellow. I do my best to match my client's colour. It doesn't matter who is in my seat, if the low-end looks good on you, I will use the low-end. If the high-end looks good, I will use that," she said. "A person's skin type also dictates what they type of make-up would be appropriate to use."
Many women argue that they go for higher end brands because they are longer lasting and make the skin look and feel better. But these benefits may not always be down to the make-up.
"It can be in the skincare that you use underneath," said LucyLu. "There is high-end skincare and there is low-end skincare. But like I say, it is all about finding the right combinations and formula."
In the past, lower end make-up brands found predominantly in drug and beauty supply stores did very little to cater to different skincare needs or skin colours. However, this has changed in recent years.
Drugstore brands revamped
Over the last five years especially, many drugstore brands have come out with new formulas and extended their shade ranges, which has made them go-to products for both regular consumers and professionals.
"In general, drugstore make-up did not cater to the nuances of skin tone. You might have just (had to buy) the darkest tone available. But now drugstore brands have taken it up a notch," said make-up artist Ewurabena Appiah.
"Women of colour have been left out so long and now brands are beginning to pay attention. Some of these brands understand that people want to look great but don't have a bunch of money to spend. They have been doing a lot of work to make sure people keep coming back."
As to the question whether its better to use high-end brands over other, more affordable ones, Ewurabena said it all comes down to one thing: technique.
"It is about figuring out what works for you; what your skin likes and a technique that works for you. You can have a $60 foundation, but if it is the wrong colour or not properly applied, then it sucks," she said.
"And there is so much information out there. When I was growing up there wasn't YouTube where you can learn how to perfect your make-up technique. You have a lot of young women out here who may have not done any formal make-up classes but they know to beat a face."
When to splurge
However, if you do want to treat yourself to some pricier make-up now and then, Ewurabena suggests being selective with the kinds of products you purchase.
"Splurge on a high-end foundation, because they are really made to last longer. Everything else you purchase can be drugstore," she said.
"I also like to splurge on mascara. I don't know what it is about high-end mascara, but I love it. I am literally obsessed with it. I feel like lashes just set off a look. So even if you don't want to go through the hassle of putting on strip lashes or individuals, a good mascara wakes up the face. It looks really natural and beautiful. Concealers, lipsticks and other items you can get at the drugstore."
Ewurabena also had some advice for those who use their expensive make-up sparingly to make it last longer.
"I am proponent of using my make-up, because it does have a shelf life. A foundation can last between six to 12 months from the time you open it. So if you are going to spend $55 on a bottle of make-up, you better use," she said