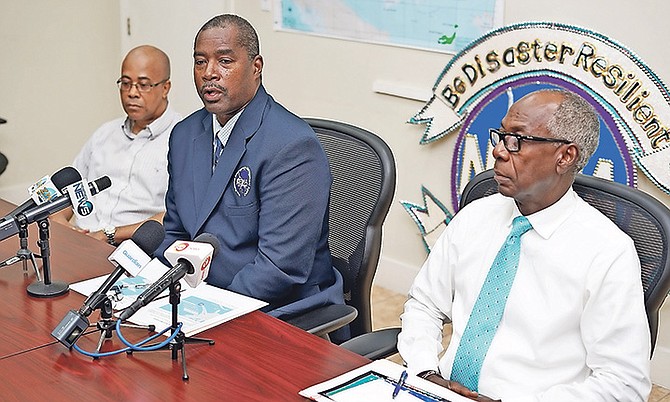 By MORGAN ADDERLEY
Tribune Staff Reporter
madderley@tribunemedia.net
THE National Emergency Management Agency has received $1.8m worth of assistance from the government of Japan to help improve the organisation's logistics capability in the event of a major hurricane.
During a media tour held yesterday, NEMA director Captain Stephen Russell showed the new vehicles and freezer containers which will help the Royal Bahamas Defence Force in moving personnel and equipment around the country before and in the aftermath of hurricanes.
Chief meteorologist Basil Dean added the likelihood of a major hurricane affecting the Bahamas is "pretty high," although the country is not as yet in the direct path of any named storm systems.
However, Mr Dean said the sea swells caused by Hurricane Florence could be as high as 18-20 feet. These will especially affect Abaco, Eleuthera, and Cat Island.
Mr Dean warned beach-goers to "stay out of the water", with the high swells expecting to start today and last straight through Friday before they begin to subside.
As a result, Mr Dean said the Glass Window Bridge in Eleuthera will "certainly be impacted", and asked residents and motorists to cease using the bridge "until conditions subside".
When asked about preparations NEMA is taking during this "peak period" of the hurricane season, Captain Russell referred to the Japanese aid, which is a result of an agreement -- the Japan Grant Aid -- signed in 2015 in the wake of Hurricane Joaquin. The equipment will help reduce the time needed to deliver assistance.
"We saw that there was a need for heavy lifting equipment, and that's why we made the request," he said, noting all the vehicles were produced in Japan. He added they were inspected, licensed, and insured this week and 15 marines and Ministry of Works personnel have been trained in operating the crane in particular.
"Over the past month, we had an agreement with the Japanese government where we're trying to improve our logistics capability and we received two brand new trucks, a tractor head, there's some freezer containers and a crane.
"They're all a part of what we call our logistics and transport mechanism. It ties in with our defence force and enhances the (equipment) they have, to help us move equipment around the country.
"Last year, we commissioned the warehouse in Inagua. We have a warehouse in New Providence and a warehouse in Grand Bahama. So this equipment that we requested from the Japanese government, they are to help us with the logistics of moving personnel and equipment around the country as necessary-- prior to and in the aftermath of a disaster."
Captain Russell said these assets arrived within the past two to three weeks. He added the government has also ordered 40 base radios and 200 handled radios from the Japanese government. These will be shipped by September 26 and NEMA should have them by the end of October, he said.
Captain Russell said this equipment will assist the government with improving communications, particularly with Family Island administrators.
"Our aim is to make sure every district where there is an administrator, there is a radio camp set up with 8-12 handheld radios to help them better communicate within their district, as persons move between the shelters and their transport systems are operating in their islands."
Regarding other preparation initiatives, Captain Russell said at the end of August, NEMA received assurance that all government agencies and departments are "prepared to respond" in the event of a storm.
He urged all Bahamians to complete household preparations and locate nearby shelters. He added business should also be secured and have a business plan that will allow them to quickly resume operations after a storm.
Captain Russell also asked church leaders to underscore this message to parishioners during their weekly services.
He added the agriculture and marine sector should ensure those in the industry properly secure their sailing apparatus, saying "too often" in the aftermath of a storm, large freight, fishing and sailing vessels are washed ashore.
Mr Dean said there are currently "two unnamed systems, none tropical" in the Atlantic Ocean. He said weather experts anticipate they will become a tropical or sub-tropical depression within the next day or two.
Another area of low pressure in the north-western Caribbean is "likely to become a tropical cyclone" within the next couple of days as it moves into the Gulf of Mexico.
He added Tropical Storm Isaac is expected to affect the Lesser Antilles this weekend, while Hurricane Florence will move "between the Bahamas and Bermuda."
The Category 4 storm is not expected to have any direct impact on The Bahamas as it heads for North and South Carolina, where it is expected to make landfall on Thursday.
"As it makes its way towards the Carolinas, we will have some indirect impact from Florence. Starting tomorrow morning (Wednesday), we anticipate very large sea swells, which would propagate southward.
"We anticipate wave heights as much as 18, possibly 20 feet, hitting the coastlines of some of our more easterly islands, namely Abaco to our north, Eleuthera and Cat Island."
He added the waves will be "amplified" during high tide. The high tide for Wednesday morning in New Providence will be 9.20am, and 9.48am in Eleuthera.
In March, large sea swells in Eleuthera resulted in the death of a 19-year-old American man at the Queen's Bath, south of the Glass Window Bridge.
During that same period, seven people were swept off the bridge by the severe swells.
When asked about the likelihood of the Bahamas being affected by a major storm, Mr Dean said: "What I would say is the probability is pretty high. When you have the number of systems that we do have and there's more to come, there's always that likelihood that one of them could impact us."
Regarding lessons learned from previous storms, Captain Russell said what was a "first" was the evacuation of people from islands.
"When we're evacuating the island, we're…going to evacuate the whole island and not leave some persons.
"The issue of mandatory evacuations, that has to come here at some point in time. And then that's a legislative decision. We have to make it mandatory that if persons (refuse) to leave a district if they know a major hazard is approaching, (they) have to sign a document (saying they refuse to leave)."
He added the government has to look at securing additional shelter space to support people who are evacuated, particularly more vulnerable members of society such as the elderly, disabled, and children.
Captain Russell also defended the government against the Inter-American Development Bank's (IDB) report that the Bahamas is just 17 percent prepared to cope with major disasters.
"In terms of our financial protection, insurance, as well as the funds available, we have improved tremendously," he said. "And that was not factored into the grade that we got from them, with the 17 percent."
Captain Russell referred to the country signing off on the Caribbean Catastrophe Risk Insurance Fund (CCRIF), which has provided the country with improved insurance coverage as the government is now paying premiums of $4 million a year.
The country will receive a pay-out if any of the three sectors --north, central, or south Bahamas-- are affected by a storm.
He also noted the government's $100 million credit facility with the IDB, which can provide the country with "quick access to funds" in the event of a major storm.
Captain Russell also said the Japanese assets were not factored into the report and called for agencies to take into consideration that the country has been affected by three major storms in three consecutive years, with over 100 government structures affected.
"It's harsh to knock us on our recovery operations," he said. "I think we have one of the better recovery programmes in the region."