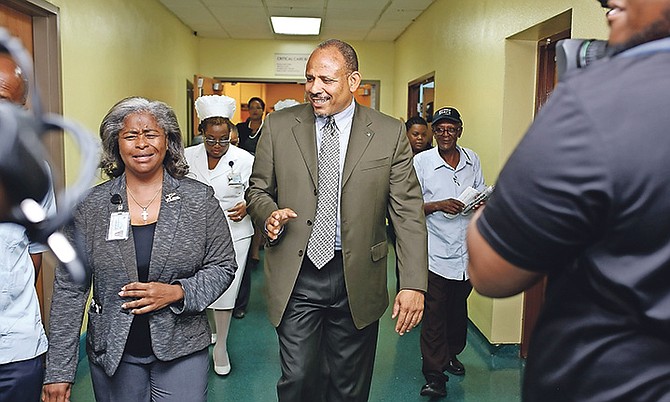 By KHRISNA RUSSELL
Deputy Chief Reporter
krussell@tribunemedia.net
AS Princess Margaret Hospital grapples with an ongoing "crisis" in its dialysis unit, PMH administrator Mary Lightbourne-Walker has been placed on administrative leave after the hospital faced fierce backlash over a leaked internal memo proposing a new fee structure for patients of the unit who use wheelchair transport.
Health Minister Dr Duane Sands confirmed Ms Lightbourne-Walker's leave, but would not reveal yesterday what prompted it. He would only tell reporters she was put on leave for two weeks. It began on August 31, The Tribune understands.
However, inside sources told this newspaper yesterday the administrative leave was a form of disciplinary action after the memo was released to hospital staff and patients in the absence of consultation with the Public Hospital's Authority and the government. The memo was also circulated on social media.
Asked whether this had happened because of an internal investigation, Dr Sands said: "Every staff member is due due process and so if you are on administrative leave there is obviously a process that is followed so that we adhere to the human resources policies and procedures. I think that is about as much as I'd like to say about that."
Earlier in the interview, he was asked if there was a situation with upper management at the hospital, to which he replied: "Well, we are always trying to identify the right team for the management of the hospital.
"I don't want to conflate issues. At the end of the day what we are trying to do is ensure that the right persons are in place at the right time in order to provide services to the Bahamian people."
In the midst of this administrative issue, patient dialysis times have been reduced.
This is because, as Dr Sands put it, there are not sufficient dialysis nurses to cater to the nearly 200 people who need renal therapy.
Asked if it was a crisis situation, Dr Sands said it was.
"Dialysis has been a huge challenge for more than 10 years," he explained. "We have a dialysis unit at Princess Margaret Hospital that was designed for 125 patients.
"The public dialysis service provides renal replacement therapy to almost 600 patients and so some of those patients are managed in Grand Bahama and some are managed in Abaco, many are managed at Princess Margaret Hospital -- almost 200 - and then some are outsourced to Renal House to other private dialysis units in New Providence.
"But we continue to have challenges because we don't have enough nurses because the equipment requires upgrades and all of these now we are trying to address to determine what is the appropriate way forward."
He also said: "There is not enough time in the Princess Margaret Hospital dialysis unit and so some people have had their total dialysis time reduced. Sometimes people only get 2.5 hours sometimes people get three hours.
"The typical is three to four hours and so these are real problems. We don't have the dialysis nurses to provide the level of care that we would like to provide and yet we are mandated to soldier on."
Late last month, PHA said it did not implement a new fee structure for wheelchair transport services for dialysis patients after concerns were raised about an internal memo that was made public proposing such a move.
Englerston MP Glenys Hanna Martin rebuked the proposal.
A weekly charge rate of $150 for transport to and from the dialysis unit three times a week was outlined in the memo by Ms Lightbourne-Walker, who noted the proposal for the new charges was reviewed and supported by PMH's executive management team.
In a statement at the time, PHA confirmed it had not executed the new fee structure.
"Presently," the PHA statement read, "transport services are being provided via private services at prices determined by the private contractor. Additionally, the dialysis treatment fee per session has not increased from its gazetted fee of $275.
"The Public Hospitals Authority apologises for any inconvenience caused as a result of the circulation of this information and assures the public that the authority remains committed to its mandate of delivering the best in quality healthcare."
The PHA would not confirm the name of the private company nor the cost of the service.