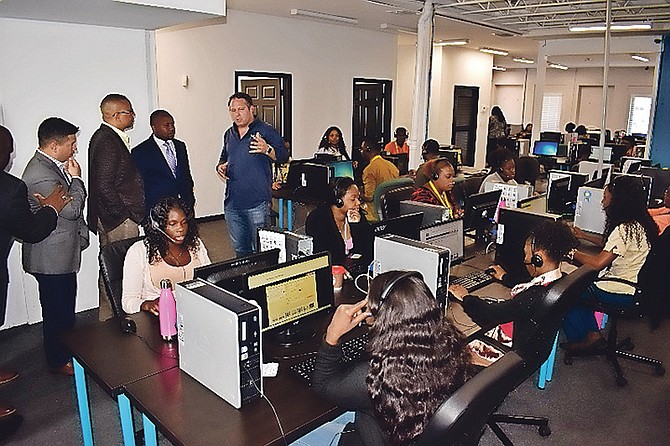 By DENISE MAYCOCK
Tribune Freeport Reporter
dmaycock@tribunemedia.net
ISLAND Outsource/Itelbpo has expanded its call centre facility in Freeport which will create an additional 100 new jobs.
Due to significant growth and success over its past six years in operation, the company has now moved into the Sir Albert Miller Building in downtown Freeport. Since its expansion, some 25 new employees were hired bringing the company's total employment to 130.
Yoni Epstein, founder and executive chairman of Itelbpo Smart Solutions, said the company will hire another 75 Bahamians by the end of the year.
The company operates call centres in Jamaica, The Bahamas, Tampa, Florida and Mexico. The call centre opened in Freeport in 2013, with 65 workers.
"We have had a blessed six years in operation as an organisation," Mr Epstein said. "We started back in 2012 in Montego Bay, Jamaica, with 12 employees. And over the last six years we have grown to just over 1,700 employees across all of our operations."
In addition to the call centres, Mr Epstein said they also have team members working from their homes in the US from California to Florida, mostly in southern states.
He revealed Itel BPO has recently embarked on a new campaign with clients in Texas which has required the hiring of additional workers in Freeport.
"We have already hired the first 25 people, and we have another 75 persons to go with that, and other campaigns we are launching.
"By the end of this year, we should have close to 200 people working for us here in Grand Bahama. It has been a success," said Mr Epstein.
He commended the Grand Bahama Port Authority and the government for their support from the beginning.
"We had great assistance and assurance from the government from day one ensuring we will be successful in Freeport," he said.
"When we came to Freeport in 2013, it was a bit of an exploration for us. I knew what the Bahamas had to offer. I knew to be close to the USA, closer than Jamaica, some 55 miles from here to West Palm Beach was a great asset for growing our company," he said.
Initially, Itel bpo was located in the Teachers and Salaried Workers Union building. After some two years, they needed more office space to accommodate their growing business.
"I went to Ian Rolle (president of GBPA) and Derek Newbold (senior manager at GBPA) and said we need more space," Mr Epstein recalled.
The GBPA had recently purchased the Sir Albert Miller Building, and Mr Epstein negotiated and cut a deal with them. Itel gutted and completely renovated the building, and relocated to their new premises in April.
Minister of State for Grand Bahama Kwasi Thompson said the expansion by Itel bpo would bring not only additional employment but hundreds of thousands of dollars directly into the economy of Grand Bahama.
"Itel currently is about to double its workforce, and we are happy they will bring new jobs to Grand Bahama. Today continues to signal to investors who are here and afar that Grand Bahama is indeed a good place to invest," he said.
He noted that Itel has joined other companies who have started companies or expanded their business in Grand Bahama.
"This is another good day in Grand Bahama. We are having more and more good days in Grand Bahama. I am very optimistic about the future for us here in Grand Bahama," he said. "We are pleased with the expansion plans and also the phased employment of an additional 100 persons in GB which has already started with first 25 that have already been hired."
He said Itel is a valued partner and stakeholder in the Grand Bahama economy.
"They have been a pioneer, a leader in the technology industry in Grand Bahama even before this government stated its vision to make Grand Bahama a tech hub. They really were pioneers along with the GBPA," Mr Turnquest said.
Ian Rolle, president of the Grand Bahama Port Authority, said Island Outsource Itel bpo was the first stand-alone call centre in Grand Bahama and the Bahamas.
"We congratulate them on year-on-year growth and the recent expansion of their facility here at the Sir Albert Miller Building," he said. "Today is a testament of partnerships to achieve a common goal which benefits all parties."