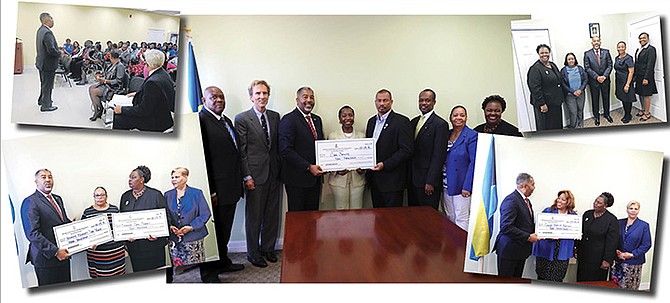 VARIOUS associations, non-governmental organisations and members of civil society were given over $30,000 in grants from the Ministry of Social Services and Community Development recently.
Minister of Social Services Frankie Campbell last week presented a series of cheques to support initiatives that help fulfil his ministry's mandate for social development, social services, public assistance, senior citizens and child protection, rehabilitative services and community development. He wanted to learn from and be updated by his own staff, various facets of his ministry, as well as NGOs and civil society in order to lead the charge and fulfil the mandate of his portfolio.
"Within two months of reviewing my portfolio as minister of social services and urban development, I celebrate the work of almost 200 NGOs in the Bahamas and particularly wish to highlight the existing partnerships of NGOs with Ministry of Social Services and Urban Development," he said.
"It is our earnest intent to work with your executive team to establish more tangible mechanisms to strengthen our united efforts for the protection and improvement of the lives of Bahamians. At the national level, governments work with civil society organisations to develop and implement national action plans that result in holistic communities. Governments cannot alone bring about change at the micro level, and with your help, partnership, and dialogue, we can meet the needs of citizens within the Commonwealth of The Bahamas."
The civil society body, led by president Sean Ingraham and vice president Dr Anthony Hamilton, aims to execute mandates with relevance to the purposes of the United Nations.
Several NGOs planning events for the United Nations international day of the girl child (October 11) and National Women's Month (November) were given grants to support their initiatives. They include the Pilot Club; GirlCon (of Grand Bahama); Save Our Daughters 242; FOAM and the Agape Emergency Shelter for battered women; Girl Guides (which received additional funding for Family Island projects); Governor General Youth Awards; and the Zonta Clubs, which launches "16 Days of Activism" - a global UN initiative each year.
"Adolescent girls have the right to a safe, educated, and healthy life, not only during these critical formative years, but also as they mature into women," said Mr Campbell, a father of three daughters.
"If effectively supported during the adolescent years, girls have the potential to change the world - both as the empowered girls of today and as tomorrow's workers, mothers, entrepreneurs, mentors, household heads, social, cultural, political and private sector leaders."
Mr Campbell also sat with various departments in his ministry including the Departments of Social Services, Rehabilitative Services and the Department of Gender and Family Affairs. He met with several groups representing the disabled community, giving them his commitment to working with them to meet pressing needs. His week ended with a half-day meeting with the entire staff of the Urban Renewal Commission, including its director, Elaine Williams and permanent secretary David Cates.