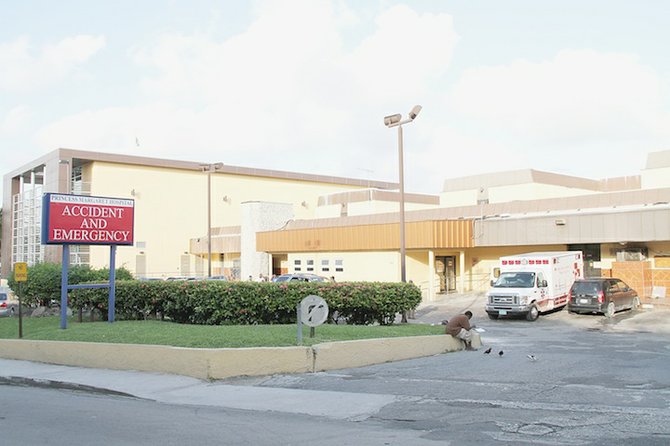 By AVA TURNQUEST
Tribune Chief Reporter
aturnquest@tribunemedia.net
NON-emergency operations at Princess Margaret Hospital have been cancelled again to allow urgent repairs to air-conditioning units in operating theatres.
In a statement last night, PMH said only emergency operations would be carried out until after the coming weekend.
The cancellation of operations came just hours after senior doctors threatened to withdraw services if temperatures in operating theatres at PMH climbed higher than 72 degrees.
Dr Locksley Munroe, president of the Consultant Physician Staff Association (CPSA), told The Tribune the beleaguered facility's air-conditioning challenges posed a serious health risk to both patients and health care workers.
He said doctors plan to stage a demonstration outside the hospital on Friday after a doctor and a nurse fainted in separate incidents due to the high temperatures.
Surgeries were postponed last week due to the nonfunctioning air-conditioning units but resumed earlier this week.
Yesterday, Dr Munroe said: "Based on the profession, if the temperature is greater than 72 degrees then we are not going to put ourselves, nurses or patients at risk.
"We had a patient undergoing a caesarean section, and the job of one person was fanning the patient because of the heat. When you think about the risk of infection, we the doctors and nurses are supposed to know better. We're putting people at risk because of the heat, and also the risk of infection.
"It poses a huge risk," he continued, "if you look all that protective garment you have on about three layers of clothes. You are so hot, it is not a joke, you have on a mask, hat, gown, your outside clothes, and your underclothes. With temperatures above 73 degrees, under those circumstances we are putting ourselves at risk, and patients at risk for infection."
A doctor fainted on September 1, and a nurse passed out on August 29 and had to be taken to the emergency room.
Yesterday, Dr Munroe said the temperature in operating theatres can exceed 85 degrees as he condemned the horrible working conditions. While temperatures were normal on Tuesday, Dr Munroe said challenges with the air-conditioning system persisted yesterday.
This comes as the CPSA is planning to obtain a strike certificate after failing to finalise an industrial agreement with the PHA despite more than two years of negotiations.
The association filed a trade dispute with the Department of Labour last week.
Last night, PMH said "management apologises for any inconvenience caused and assures the public that it continues to work to deliver the best in quality healthcare."