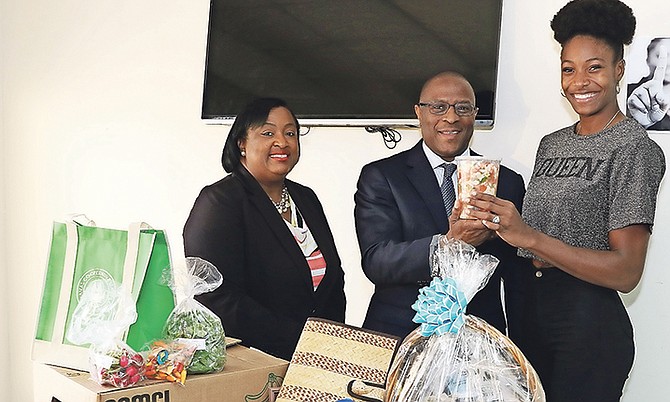 'GOLDEN girl' Shaunae Miller-Uibo is home and one of her first visits was a courtesy call on Michael Pintard, the Minister of Agriculture and Marine Resources.
Miller-Uibo made the visit to Pintard, the former Minister of Youth, Sports and Culture, yesterday, just after she arrived home from her string of victories this year. He was joined by Phedra Rahming, the permanent secretary.
Unbeaten this year, Miller-Uibo is coming off her triple victory at the International Amateur Athletic Federation's Continental Cup held in Ostrava, Czech Republic.
As a member of Team Americas that represented Canada, the United States of America, South and Central America and the Caribbean, Miller-Uibo won the 200m.
She also ran the second leg on the women's 4 x 100m relay team and anchored the mixed gender 4 x 400m team.
Her performance came a week after she repeated as the IAAF Diamond Final 200m champion in Brussels, Belgium, where she was joined by Donald Thomas, who got fifth place in the high jump.
The day before in Zurich, Switzerland, quarter-miler Steven Gardiner pulled up after taking the lead on the home stretch in the men's 400m and eventually walked across the finish line in eighth place.
This weekend, Miller-Uibo is expected to be honoured during a motorcade through the streets of New Providence on Saturday. That will be followed by a reception attended by Prime Minister Hubert Minnis on Sunday.