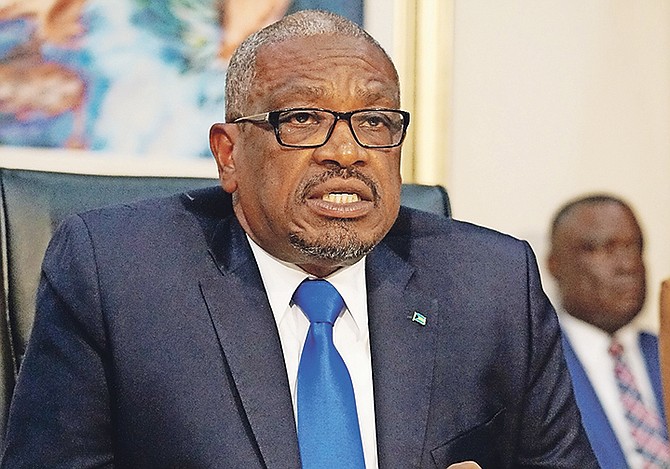 By KHRISNA RUSSELL
Deputy Chief Reporter
krussell@tribunemedia.net
PRIME Minister Dr Hubert Minnis said yesterday he is still committed to his promised investigation of Bahamas Power and Light and the collapse of its board of directors three weeks ago.
He said the terms of reference for the probe had to be completed, presented to the new board and then "we will do the proper investigation".
Recent fires at BPL's Clifton Pier Power Plant have brought on a fresh round of criticism and questioning over the state of the power provider.
The prime minister said: "Investigations are ongoing so I would not want to preempt anything. I am, and the rest of the Bahamas is, watching. Electricity is just too expensive in this country. Individuals are paying two mortgages. The electricity rate is just as high as mortgages, that is not fair.
"That has to be resolved. Both must come down. The mortgages, the electricity, both must come down and that's our mandate. And we will bring them down."
Earlier this month, Press Secretary Anthony Newbold said a team had not yet been appointed to carry out the BPL probe.
Asked if Dr Minnis regards the matter with any urgency, Mr Newbold said: "What needs to happen is the board of BPL and management needs to make sure we have electricity every day. He hasn't said when he's likely to (choose investigators). He's committed to doing that and he will but there's no timeline on that."
Relationships between factions of the former board frayed over a variety of issues.
The two sides made damaging allegations about one another during their very public spat.
Following a tour of the Grand Lucayan resort in Grand Bahama in late August, Dr Minnis promised a "proper investigation" into the saga will take place.
He said at the time: "I have met this morning with the past BPL board members, had a very great meeting with them and I have informed them that in light of what has been transpiring, that the government will initiate a proper investigation into the BPL saga and when we complete that investigation that will be made readily available."
Since Dr Minnis' announcement, several observers have urged him to appoint independent investigators whose conclusions won't be dismissed as partisan. Progressive Liberal Party Leader Philip "Brave" Davis called on him to request that Auditor General Terrance Bastian conduct the investigation.