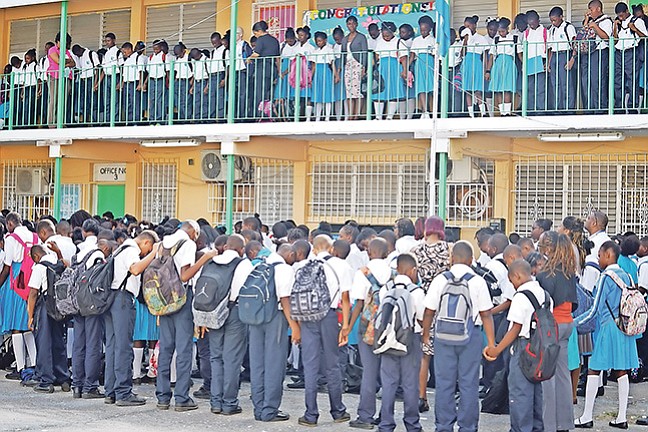 By MORGAN ADDERLEY
Tribune Staff Reporter
madderley@tribunemedia.net
THE principal of HO Nash Junior High School has insisted the campus does not have a security problem, one day after the fatal shooting of a police officer in the proximity of the school.
However, during an assembly held yesterday morning, Principal Cheryl Samuels advised students to be "careful" outside of school grounds. She also told them not to run toward incidents of violence.
In interviews with The Tribune, Bahamas Union of Teachers President Belinda Wilson and multiple parents underscored Ms Samuels' remarks. They expressed concern about the incident, but overall maintained the tragedy was not a school-specific issue, but a product of the country's socio-economic issues.
Inspector Carlis Blatch, a respected aide-de-camp to Governor General Dame Marguerite Pindling, was shot on Wednesday afternoon in front of his 13-year-old daughter while picking up his son from the junior high school.
At the time of the incident, the area was crowded with parents picking up their children, police said on Wednesday.
"We don't have a security problem. We don't have a security problem," Ms Samuels repeated to The Tribune yesterday. "It was after hours, so most of the children had already (moved) out of the area.
"Parents, they have an area where they normally settle to pick up their children so that we can't be so crowded, congested, and stuff like that. And the parent was out there.

"It's not a school issue," she reiterated.
While Ms Samuels declined to speak on the specifics of the incident, she told The Tribune the school had "lost a member of (its) family".
She described Insp Blatch as a good father and "very supportive parent" who was seen daily on campus.
During yesterday's morning assembly, Ms Samuels extended condolences to Insp Blatch's son and promised that he would have the school's support.
To the wider student body, she said: "I want you children to know that the police are your protectors and that you need to respect them and care about them.
"I also want you to be careful when you are on the outside. Please. Yesterday many of us ran toward (the) incident."
Ms Samuels also implored those in attendance not to take photos of tragic moments.
"Some of you had phones and were taking pictures. If that were a relative of yours on the ground, would you like to see (that)? Do you want it to go all over? We need to be more sensitive.
"Some of us adults are not setting good examples," she added.
Meanwhile Mrs Wilson described the shooting as "heart wrenching" and said she knew Insp Blatch personally. She added she was visiting the school to offer support and encouragement to teachers.
Asked about the issue of school safety, Mrs Wilson pointed to the overall scourge of crime in the country and called for the government to resume capital punishment.
"This here is not directly a school matter. It's in the community. I mean, he (Blatch) was waiting for a child. It just happens to be that he was in front of a school," Mrs Wilson said.

"But I'm really calling on our government to get serious about crime," she continued. "And if we're going to have hanging…if it's on the books, then let's go ahead, after everyone has gone through the process and they're found guilty, then let's carry out what the law says."
The Tribune also spoke to a number of school parents and guardians yesterday morning. Most of them regretted the incident while reaffirming their position that the campus is safe.
One woman, who wished only to be identified as Ms Abraham, noted the shooting could have taken place at any school. She added her niece, a ninth-grader, saw the inspector's body.
"I just think that, based on how we have developed as a country, it could've happened anywhere, not just HO Nash," Ms Abraham said. "It could've happened at Eva Hilton or CC Sweeting or AF Adderley…it could have happened at any one of the schools."
Referring to the fact that Insp Blatch's young daughter was a witness to the incident, Ms Abraham said "no child should have to go through that".
"The school year just started. I'm sure that will be a traumatic experience for that child. And that family as a whole, and by extension the kids who saw the body. My niece, she actually saw the body on the floor.
"So, that's something that we have to have a collective change of thought in how we conduct ourselves as a nation, as a country."
The Tribune met Darnell Claridge with her son near the entrance to the school.
"I'm telling my son now, that soon as school ends and the bell rings, that he must ASAP find his way home," she said. "No hold up, no nothing, don't let nobody hold him up. Because safety is at hand for these kids.
"That what happened yesterday (Wednesday) is bold and cold. In a cold manner in front of kids, people, and putting everybody's safety at risk."
Another parent, who identified himself as a police officer, who also believes that the school is safe, said he doubts any outsiders would come on school grounds.
Mark, the father of an eighth-grade student, noted that school violence isn't specific to HO Nash.
"I moved him (his child) from one school for violence and come and meet up the violence. But you know it ain't violence in school, it's violence out of school…But it's very (concerning) to see how people could just run in and do things."
Pastor Devon Rolle, of Kingdom Discipleship Centre, was also present at HO Nash yesterday morning. He encouraged parents to be "vigilant", but be careful not to "pass fear onto the children."
"Because we need (the children) to, as quickly as possible, come back to some level of normalcy and focus on their work," he said.
Wednesday's incident was not the first time a shooting incident took place on or near school grounds.
In November 2017, a parent of St Francis Joseph Catholic Primary School was shot in the school's parking lot on Boyd Road shortly before 3pm.
When officers arrived, they found the victim sitting in a red car with a gunshot wound in his hand. The victim's car had bullet holes in the driver's side window and one of the rear windows.
He was taken to hospital where he was subsequently listed in stable condition.
In June, a security guard on duty at A F Adderley Junior High School, was accosted and then attacked by two armed assailants.
The incident occurred shortly after 4.30am. Police said at some point during this interaction, the security officer was shot in his body and died at the scene.