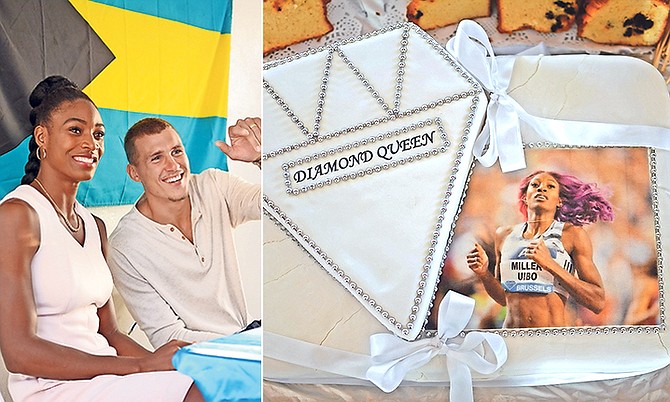 Photos: Shawn Hanna/Tribune Staff
OLYMPIC gold medallist Shaunae Miller-Uibo can be seen (top left with her husband) here enjoying a welcome reception at the National Tennis Centre on Saturday night.
Last week, she paid a courtesy call on Michael Pintard, the Minister of Agriculture and Marine Resources. She visited Pintard, the former Minister of Youth, Sports and Culture, just after she arrived home from her string of victories this year.
Unbeaten this year, Miller-Uibo is coming off her triple victory at the International Amateur Athletic Federation's Continental Cup held in Ostrava, Czech Republic. As a member of Team Americas that represented Canada, the United States of America, South and Central America and the Caribbean, Miller-Uibo won the 200m. She also ran the second leg on the women's 4 x 100m relay team and anchored the mixed gender 4 x 400m team. Her performance came a week after she repeated as the IAAF Diamond Final 200m champion in Brussels, Belgium.