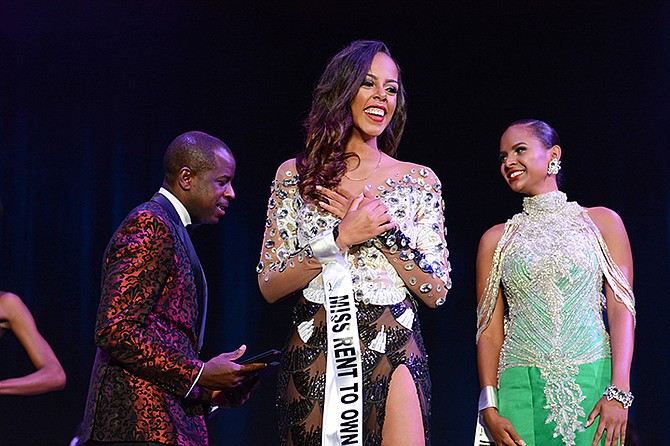 By JEFFARAH GIBSON
Tribune Features Writer
jgibson@tribunemedia.net
Had she taken the advice of her doctor, Danielle Grant might have never heard her name being called as the winner of this year's Miss Bahamas Universe last Sunday.
The 23-year-old beauty queen faced numerous obstacles throughout her pageant journey, including an inaccurate diagnosis of a foot injury which nearly cost her the crown.
"I almost dropped out of the pageant because I had an incident where I hurt my foot," the newly minted Miss Bahamas Universe told Tribune Woman. "I got an X-ray from a doctor who said that based on what he was seeing I would have to drop out the pageant because I needed to be put in a cast. I told him I didn't want to wear a cast so he decided to put a (Aircast) boot on me," she said.
Danielle decided to get a second opinion from a foot specialist who gave her a different diagnosis.
"The podiatrist said, 'Your foot is fine. You have good bone density and there is nothing wrong'. He actually said had I kept wearing the boot I would have damaged my foot," she said.
Regardless of the condition of her foot, Danielle was determined to see her journey through to the end.
"Even if I needed to wear the cast, I did not care. I was going to take some painkiller or wrap my foot and be ready for when the pageant night came, because like I kept saying, 'this is happening'."
Danielle said the challenges she faced to make it to grand finale actually made winning the title in front of her friends, family and supporters at the Atlantis Theatre that much sweeter.
"I am so excited. It was just really surreal when they called my name. But it is a wonderful feeling to know that you accomplished something you have been preparing for. What I learned is that nothing good comes easy, and this did not come easy. I am so proud, excited and happy to represent my country," she said.
Danielle will travel to Bangkok, Thailand in December to compete in the 2018 Miss Universe internation; competition which will air live on Sunday, December 16, at 10pm on FOX.
Five-time Emmy Award winner, and one of television's favourite entertainers, Steve Harvey returns to host. The three-hour event will feature women representing nearly 100 countries.
Danielle, a recent graduate of Johnson & Wales University, said this pageant experience has truly shaped her and readied her for what is to come.
"I am just so happy to exited to work with my team for the upcoming event. Valentino Omar he will be designing my attire for Thailand," she said. "I am about to meet my team to discuss public relations work. I will also be keeping abreast of international as well as local issues."
Danielle edged out 10 other competitors, described by her as "sisters".
Throughout the pageant, her platform was animal advocacy. This will also remain her focus after her reign as Miss Bahamas Universe comes to an end, she said.
"This was my platform because this is my life. I currently have four cats and two dogs, and I am passion about animals. I lived this life before the pageant and long after the pageant is gone this will be my life," she said.
One of the main things she hopes to achieve is the launch of a therapy programme where dogs can be trained to provide comfort and support to people in hospital.
"There is a negative stigma surrounding potcakes in our country. People think they are a nuisance and they are annoying, but I want to show people that animals are therapeutic for people. I want to train the potcakes so they can be therapeutic for people and hopefully team up with the government in order to make this possible," she said.
Danielle said she is grateful to God for empowering her throughout this experience. She said she will do her best to represent the Bahamas come December.