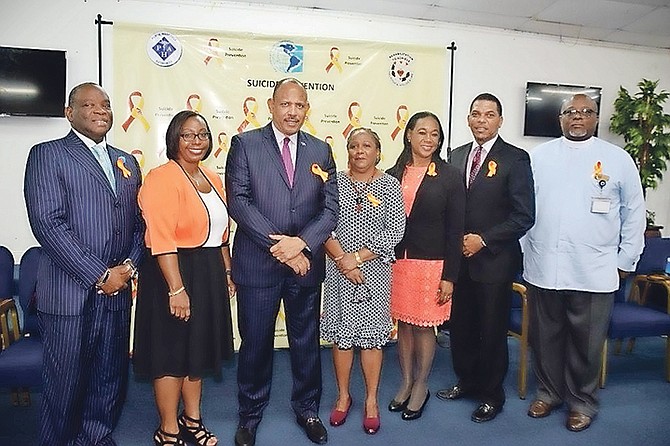 By JEFFARAH GIBSON
Tribune Features Writer
jgibson@tribunemedia.net
WHEN certain factors converge, anyone at any point in time can become suicidal, according to experts. And since suicide is a complex issue and there are no quick fixes, Sandilands Rehabilitation Centre continues to create awareness of suicide and how it can be prevented.
Suicide remains a global public health concern. To educate Bahamians, the centre hosted a suicide prevention symposium last week.
World Suicide Prevention Day (WSPD), which is celebrated annually on September 10, provides an opportunity to increase public awareness and understanding of suicide and its related factors.
According to the World Health Organisation, suicide is one of the leading causes of death around the world, claiming more lives than motor vehicle accidents or homicide.
The theme for this year was "Working Together to Prevent Suicide", which was observed in Nassau through several activities, including a symposium and a movie night.
The event was chaired by Dr Tracey King, clinical psychologist at the Community Counselling and Assessment Centre (CCAC), the out-patient treatment centre at Sandilands.
"The word suicide brings with it a plethora of emotions. The majority of them being negative, like shame, guilt, fear and confusion. It is the uncomfortable nature surrounding suicide that fortifies the walls of stigma and silence, which keeps the issue of suicide locked in the dark," said Dr King. "The status quo of avoidance needs to end. Suicide has become an alarming epidemic. Globally, it is among the top 20 leading causes of death for people of all ages."
She added that statistics reveal that suicide is also responsible for close to a million deaths worldwide per year. These numbers do not include those who attempted suicide and survived or the countless others that remain voiceless.
"Suicide is not a foreign phenomenon to the Bahamas. Although we do not know the exact extent, we know that it is present within our boarders. At one point, suicide was thought to only occur among those with mental illnesses. However, more recently it is believed that anyone can become suicidal due to a convergence of a variety of factors," said Dr King.
"In essence, suicide is complex. There are no easy answers, quick fixes or simple solutions. Therefore, a multidimensional approach is essential for its eradication."
Attendees we encouraged to wear suicide prevention ribbons and T-shirts in the colours yellow and orange, which are the international colours representing suicide prevention.
"Suicide has become a major global problem with estimates being over 800,000 deaths per year. In 2003, the International Association for Suicide Prevention launched the initiative of World Suicide Prevention Day to raise awareness around the world that suicide can be prevented," Betsy Duvalier, public relations coordinator told Tribune Health.
One of the main goals of the day is to increase awareness and sensitivity towards suicide in the workplace and the community, assist individuals in being able to identify the signs and symptoms of someone who is suicidal and aid them in being able to make appropriate referrals, and to help equip persons in developing effective institutional action plans.
"This year we had many highlights. However, there are two that stood out. The first one was the symposium breakout sessions that included teachers, counsellors, church workers, pastors and community workers, as well as law enforcement and healthcare professionals. The other was the suicide prevention movie night that was held at Galleria Cinemas," said Ms Duvalier.
The breakout groups were for healthcare professionals and featured Dr Petra Forbes, who spoke to law enforcement; Dr John Dillet, who spoke to teachers and guidance counsellors, Dr Novia Carter-Lookie who spoke to pastors and church workers, and Barrington Brennen and Dr Michelle Bettin.