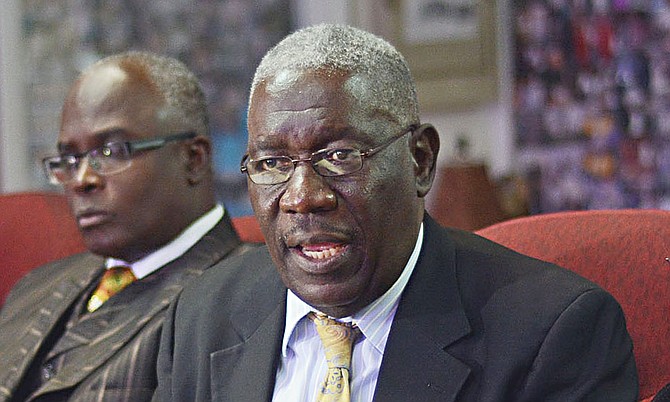 By RICARDO WELLS
and KHRISNA VIRGIL
Tribune Staff Reporters
rwells@tribunemedia.net
BISHOP Simeon Hall yesterday said the government, particularly Prime Minister Dr Hubert Minnis, must set the pace if the country is truly expected to stand united against criminality.
Responding to Dr Minnis' recent plea for unity, Bishop Hall contended that a legislative review, inclusive of several constitutional changes, would be needed to jumpstart any true assault on crime.
"The war on crime must go beyond words," Bishop Hall said.
"The Bahamian people have a right to expect the PM to lead a successful war on crime because he promised to do a better job than the PLP did."
Bishop Hall said while there has been much reduction in crime since the Minnis administration has taken the reigns of government, the heinous nature of crime has remained a constant.
"Criminals are not threatened by words, regardless who proclaims them," said Bishop Hall, who serves as Pastor emeritus of the New Covenant Baptist Church.
"Criminals know that there will be no capital punishment carried out and they still believe that they can beat the judicial system.
"I will be the first to enrol in the PM's war on crime if he were to lead Parliament in introducing draconian penalties for those convicted of crimes," Bishop Hall added.
Among his suggestions of "draconian penalties" Bishop Hall called for all persons convicted of murder to be sentenced to life in prison without the possibility of parole; a three-strike law that would imprison any person convicted of three crimes to an extended prison term; and the doubling of all gun related penalties.
On Sunday, Dr Minnis said that the country would be destroyed by the traumatic impact of violent crime unless its citizens and residents collectively waged war on criminality and dishonesty in every instance.
The prime minister reiterated the call on the sidelines of the opening of a national skills symposium at the National Training Agency on Gladstone Road.
"The public has to become involved. Families must turn criminals in," Dr Minnis said yesterday.
"Because there are two types of murder. We're looking at overt murder as we see individuals die. That's what you call the open murder that we can see regularly. We're not looking and concentrating on the closed murder that we don't see in society until 10/20 years later. That is the psychological impact on the society so you can imagine what has happened to H O Nash School and the family members.
Dr Minnis continued: "You can imagine when somebody is raped in their home or they're robbed in their home the psychological impact. We are just looking at capturing the criminal but we're not looking at what it has done psychologically, not only to that family but to the nation and then we see the impact ten, 20 years later and then we wonder why individuals are disturbed, why they are disturbed psychologically, why they are behaving this way.
"Therefore if we are to save the nation families, Bahamians must not just look at overt criminality, but they must look at how they can help to stop what will occur 10, 20 years from today and that's what we must declare war on."
On Sunday, Dr Minnis told The Tribune all law enforcement agencies have been put on full alert.
He said the entire Bahamas is needed to declare war on criminality and dishonesty if it truly intends to save itself.
According to The Tribune's records, 67 murders have occurred across The Bahamas this year.