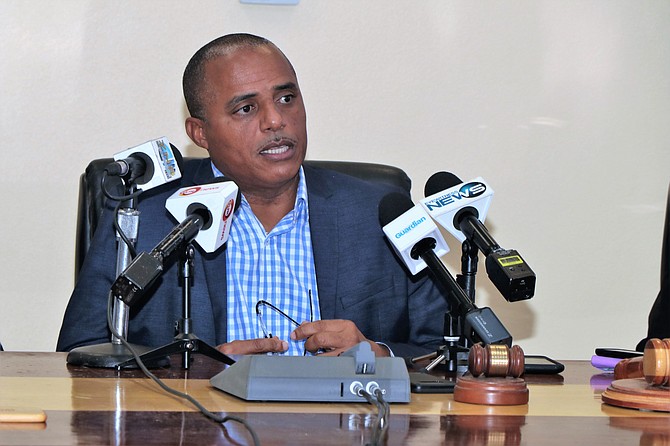 By KHRISNA RUSSELL
Deputy Chief Reporter 
krussell@tribunemedia.net
MAJOR crime categories continue to trend downward and it's not by "happenstance", National Security Minister Marvin Dames said yesterday.
Mr Dames suggested the decrease seen in crime figures correlate with Prime Minister Dr Hubert Minnis' declaration earlier this week that his administration has waged a war on crime.
He said the government has already begun to fulfil many of its pre-election promises on crime. Among these, he underscored technology upgrades and changes to the manpower make-up of the Royal Bahamas Police Force.
"In almost every serious category of crime we continue to see the numbers moving, trending downward," Mr Dames told reporters yesterday outside the Cabinet office. 
"It's not happenstance. You know when we came into office I laid out exactly what it is that we intended on doing (and) we're doing that.
"We completed our manpower audit of the Royal Bahamas Police Force.  We're now acting on that. We've completed a study in relation to resources especially police vehicles, we're now acting on that.
"They've gotten their first in lay of vehicles and now they're working on getting the second and final order and so now our objective is to make certain that we begin this process of populating these divisions based on our study and we have classified them based on areas, based on crime, based on population shift and population density based on any number of factors and so as I said before, we're not taking a gut approach to this.  
"We're taking a measured approach based on research and it has been proven that it is working that we are headed in the right direction." 
Mr Dames added: "We talked about any number of technology. Just recently Cabinet approved the acquisition of shot spotter which is the gun detection technology that will go hand in hand with the next phase of our cctv programme and so now we will now move another stop towards getting more firearms off the streets because as they are fired the technology will now triangulate to where the shots are coming from the cameras will pan in those areas and we will be able to respond as these persons have fired these weapons."
Moving forward he said a request for proposal will be sent to Cabinet for the use of drones by the police force among other things.
"We're about to put before Cabinet within the next few weeks our drone RFP," Mr Dames continued, "which should be coming out very shortly as well so there are any number of things that we talked about that we are now beginning to see come to fruition and so as the numbers continue to trend down we are now gearing up for 2019 which we hope will be an extremely wonderful year. 
"Our neighbourhood watch, our crime council is growing by the day and we have members of the public communities who are coming forward by the hundreds and who are becoming a part of this amazing programme and it is national. 
Mr Dames said he planned to travel to Grand Bahama this weekend to meet with its crime council, adding he was excited about the opening of the new police and fire station.