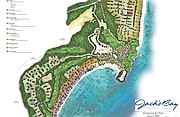 By NEIL HARTNELL
Tribune Business Editor
nhartnell@tribunemedia.net
Disney and its opponents will "fail to reignite South Eleuthera's middle class and change the game" with their rival plans for Lighthouse Point, a nearby developer argued yesterday.
Instead, Sir Franklyn Wilson told Tribune Business that the controversy surrounding the 700-acre site's fate will become "mute" once redevelopment of the Cotton Bay, Jack's Bay and Davis Harbor area by his Eleuthera Properties entity moves into high gear.
Describing his development plans as the true "catalyst" for south Eleuthera's economic rebirth, the well-known Bahamian businessman said the proposals from the cruise line and One Eleuthera Foundation were "too small and insignificant" to have the economic impact desired by residents.
Sir Franklyn, who said he had seen both plans, branded the Foundation's as "more eco-friendly" while Disney's was likely to carry greater job and economic benefits. He also praised the cruise line for seeking to "meet the environmentalists part way" with some of its proposal.
The Sunshine Holdings chairman, though, described Lighthouse Point as "a significant test case" for Bahamian environmental activists when it came to "balancing" their cause with the need for employment and economic development - especially in south Eleuthera and other Family Islands.
He added that they needed to show "tolerance" towards "reasonable" development proposals, and said: "They can't keep saying: 'Don't, don't, don't. We have to at some point say: 'Do, do, do."
Expressing doubt over whether Disney and its opponents will ever come to a mutual understanding, Sir Franklyn told Tribune Business: "My position is this. There are two proposals out there and I have seen both of them.
"The fact of the matter is neither of them, in my humble opinion, will make a dramatic difference on altering the quality of life in south Eleuthera in terms of reigniting a middle class. Neither of them will do it. The economic impact is too small and insignificant."
Separating the rival plans for Lighthouse Point, Sir Franklyn added: "The One Eleuthera advantage is that it's more eco-friendly, but the Disney thing will have a more favourable economic impact.
"While the Disney thing will not create an economy on its own, there will still be a significant number of well-paying jobs. The fact is they will bring people, which a friend of mine called: 'The basis of body heat'. South Eleuthera and some of the Family Islands suffer from the absence of body heat."
Sir Franklyn's latter comments refer to the volume of cruise passengers that Disney's proposal, if approved, will bring to the 700-acre Lighthouse Point site on Eleuthera's southern tip. Many areas in the Bahamas, especially in the Family Islands, suffer from a lack of critical mass when it comes to visitor numbers and spending.
However, the thought of Disney creating another private cruise port/exclusive destination accessible to its passengers only has filled many Eleuthera residents and environmental activists with horror. They have swiftly mobilised to oppose such plans, arguing that such facilities produce little to no economic benefits for The Bahamas in terms of jobs and entrepreneurial opportunities.
Via the One Eleuthera Foundation they have submitted a rival plan for the privately-owned site, arguing that its beauty needs to be preserved and accessed by all Bahamians. The Government has yet to unveil a formal position on the issue, although Dionisio D'Aguilar, minister of tourism and aviation, pledged that no development of the actual lighthouse or surrounding beach will be permitted.
He left open, though, the possibility that a portion of the 700-acre site could be used for such activity. Sir Franklyn, meanwhile, reiterated his belief that Eleuthera Properties - and not Disney or the One Eleuthera Foundation - should be looked to as the best hope for reviving the area's economy.
"In my opinion neither will change the game in terms of the ability to reignite the growth of the middle class in south Eleuthera," he said of Disney and the Foundation. "But I'll tell you this. If we are successful the conversation will become mute.
"Jack's Bay will be the catalyst that south Eleuthera needs. We're focused on what we're doing, and what happens there [Lighthouse Point] will not make a big difference for the country."
Sir Franklyn then praised Disney for seeking to address at least some of the concerns voiced by environmental activists and Eleuthera residents, although he doubted this would be sufficient to quiet opposition to the cruise line.
"If one just looks at the environmental aspect of it, Disney is to be commended because they've heard the environmentalists' cry and are obviously making a significant effort to meet the environmentalists part way. They're to be commended for that," he told Tribune Business.
"South Eleuthera is a very important test case for the environmentalists because I think there is no doubt environmental preservation is important. The environmentalists often say they are not anti-development, they often say they want responsible development, and recognise people need economic opportunities to eat and work regardless of how beautiful the place is."
Sir Franklyn continued: "The environmentalists' response is to say: 'We believe that; we're not saying do nothing, but do it responsibly', which is the only suggestion they come up with.
"The environmentalists, at some point, have to show that they are prepared to accept the need for balance. At some point they have to show that. They can't keep saying: 'Don't, don't, don't. We have to at some point say: 'Do, do, do'. I think Lighthouse Point is a major test case for them; for them to be seen as tolerant of it - tolerant of reasonable things."
Emphasising that Bahamians were looking for job and economic opportunities, Sir Franklyn said this nation needed to avoid a scenario where "Columbus came through, and if he came back today, nothing has changed".