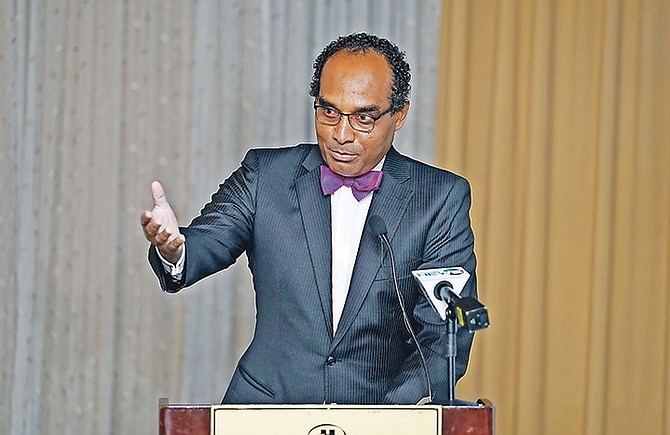 By MORGAN ADDERLEY
Tribune Staff Reporter
madderley@tribunemedia.net
ENVIRONMENTAL Minister Romi Ferreira has emphasised the importance of environmentalists connecting with "people on the ground" and considering the need for jobs in the fight to save Lighthouse Point, Bahamas National Trust director Eric Carey told The Tribune yesterday.
Yesterday, Mr Carey and Mr Ferreira attended the Bahamas Protected policy makers breakfast event at the British Colonial Hilton.
During his speech, Mr Ferreira noted the importance of basing policy on science and briefly mentioned the controversy surrounding Lighthouse Point, Eleuthera.
Mr Ferreira has not responded to numerous requests for comment on the issue by The Tribune and declined to speak with us on the matter at the conclusion of the event.
In his speech, Mr Ferreira said: "I teased my colleagues when I came into the room, I teased Casuarina (McKinney-Lambert, executive director of Bahamas Reef Environment Educational Foundation) and Eric, who I've known for a long time…about the Lighthouse Point development in Eleuthera.
"Sometimes it is beneficial to the country to have decisions made (by) persons who can see things objectively and not so close to a situation that they may be swayed."
Lighthouse Point is a privately owned 700-acre peninsula comprising the southern tip of Eleuthera. Earlier this month, the Bahamas Chamber of Commerce and Employers Confederation confirmed that Disney Cruise Lines made a presentation to the Chamber regarding the company's proposal to develop a destination at the site.
Organisations such as the Bahamas National Trust and the One Eleuthera Foundation, along with many other environmentalists and activist groups, are instead calling for more sustainable development at the site.
When asked if Mr Ferreira provided any indication as to which direction the government was leaning for Lighthouse Point, Mr Carey said Mr Ferreira was "careful to not make a commitment about Lighthouse Point at all, either way".
Mr Carey explained Mr Ferreira encouraged him to ensure environmentalist groups highlight to locals that proposed sustainable alternatives will provide jobs.
"What the Minister was saying is that there are real stories on the ground, that we have to make sure (that) we talk to as many people on the ground, get their perspective, because those are the people who are looking for jobs, they are looking for economic realities," Mr Carey said.
"So we have to make sure and present our case to them as well. To let them know that what we're proposing will provide economic activity for them. Because that's what people want to know about."
Mr Carey continued: "The place in and of itself is one of the most beautiful places in our country, but it's not going to fly just on that. We know that it… needs to be enveloped in a sustainable economic plan that protects it, obviously…but also explores ways that people can earn an income.
"And whether that's from ecotourism or small boutique eco-lodges, the research facility we've talked about, those jobs have to be real for people. And that's what the minister was saying - is that there are people on the ground who are looking for jobs. They're looking for economic options."
Mr Carey's comments echoed comments made by Shelley Johnson, wife of Central and South Eleuthera MP Hank Johnson.
"The majority of residents of Eleuthera support Lighthouse Point," she claims.
"A lot of people support plans for the property."