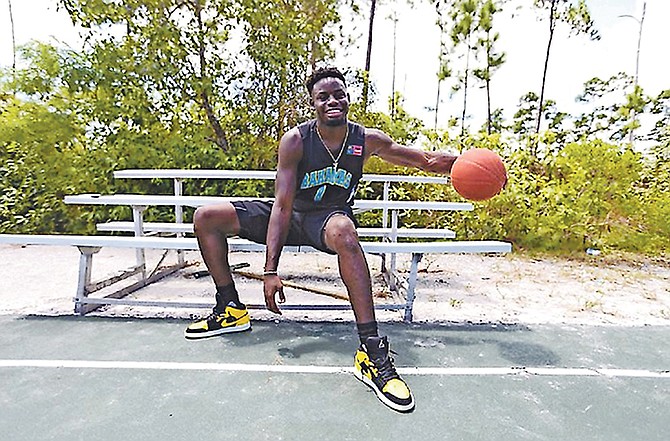 By RENALDO DORSETT
Tribune Sports Reporter
rdorsett@tribunemedia.net
THE long recruiting process for Bahamian prep basketball player D'Andre Vilmar has concluded with a commitment to a junior college powerhouse.
Vilmar will join the Missouri State-West Plains Grizzlies for the upcoming Fall 2018-2019 campaign.
The 6'4" guard out of Abaco was one of eight newcomers announced by Grizzlies head coach Chris Popp.
"D'Andre is an explosive athlete. He's another player with national team experience. He comes in highly touted, having been recruited at the D1 level and rated as a four-star recruit by ESPN," Popp said.
"I'm really excited about this group. We've gotten bigger, more athletic. The overall talent level is high. It's just going to be a matter of blending it all together. The qualities that will dictate how our season goes are intangible. If this group displays the toughness, savvy and determination, then buys into the team concepts, togetherness and how we approach things, it's going to be an exciting season."
He continues a recent Bahamian legacy with the Grizzlies after
Radshad Davis completed two impactful years with the programme prior to his transfer to the Division I University of Texas - Arlington.
Davis was the team-elected Most Valuable Player and Team Captain awards and Defensive Player of the Year after he averaged 16.5 points, 6.7 rebounds, 3.4 assists and 1.3 steals per game. Vilmar transferred to Olympus Prep Academy in Williamstown, New Jersey, to complete the athletic and academic year just prior to the collegiate ranks.
After an injury shortened his senior season at the high school level, Vilmar took the prep school route in an effort to strengthen his recruitment for the class of 2018 when he joined the Redemption Christian Academy Lions prep school in Northfield, Massachusetts.
He spent his high school senior season at the Paul VI programme in New Jersey following a transfer from Roman Catholic High in Philadelphia, Pennsylvania.
By the end of his junior season, Vilmar was making his way toward the ESPN 60 rankings. Roman had won their second state title and he was listed as a four-star recruit, ranked fourth in the state and 27th nationally at his position.
That momentum stalled after just a few games into the preseason as a senior. Paul VI's star recruit would be lost due to a season-ending knee injury on a seemingly routine play against Timber Creek.
After spending the offseason rehabilitating, he decided to take the prep school route. At the international level, he was a part of the Bahamas team that finished fifth at the FIBA Centrobasket Under-17 Championship when he led the tournament in scoring at 19.6 points per game and rebounding at 12.4 boards per game.
He was also second in assists as he dished out 4.6 per game.