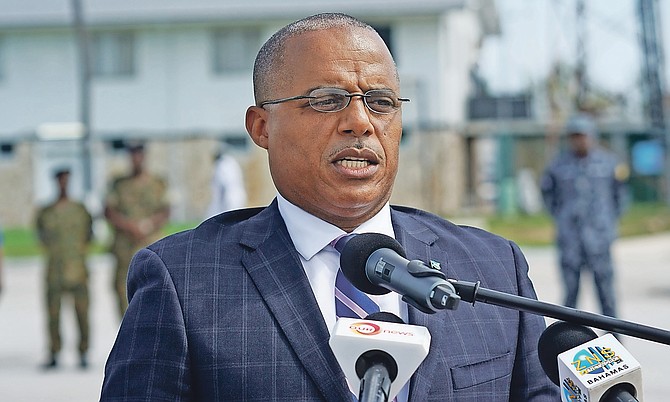 By RASHAD ROLLE
Tribune Staff Reporter
rrolle@tribunemedia.net
NATIONAL Security Minister Marvin Dames conceded yesterday the Royal Bahamas Police Force must be more transparent with the public about its investigations into use-of-force incidents involving police officers.
He was speaking after a viral video showing a bloodied, handcuffed man being restrained by police sparked outrage on social media, spawning thousands of shares and hundreds of comments from people who called the incident "disturbing".
Deputy Commissioner of Police Emerick Seymour said the matter will be investigated but many social media users scoffed when this was reported by The Tribune yesterday, convinced nothing substantial will come out of the matter.
Told this outside the House of Assembly yesterday, Mr Dames said he had not seen the video but acknowledged the public's scepticism and said: "We certainly have to look at ways to bring a greater level of transparency so the public can see that the police are in fact doing their jobs and the commissioner takes these matters, he and his leadership team and the deputy commissioner who has oversight of discipline, they take these matters very seriously. We all do. It's appalling."
Following The Tribune's report of the RBPF's response yesterday, one Facebook user said: "No justice ever prevails from these events…sad in this country."
Mr Dames, however, said: "There have been investigations where matters such as this would have been reported to the police and the police would have initiated the appropriate investigations and taken the appropriate actions."
He added people should also be aware some videos that go viral depict events that do not take place in the Bahamas.
The latest viral incident allegedly happened early Monday morning on Prince Charles Drive. It is not clear who recorded and released the video. Mr Dames said recordings of potential abuses "brings a greater level of accountability, transparency and responsibility," insisting he is focused on bringing a "level of professionalism within our law enforcement agencies."
In the video, a man bleeding from the mouth pleaded for help, complaining about not being able to breathe and having a bleeding hand. The officer whose knee rested on his chest said: "Yeah your (expletive) neck got be bleeding soon."
One Facebook user said "ok now lemme see where this goes," to which another user replied: "No where smh just another cover up."
One user said: "Yeah those officers in the wrong! Don't condone this behaviour, police supposed to protect us. Young man was already handcuffed, no need to put your knee on his throat. Total abuse of power!"