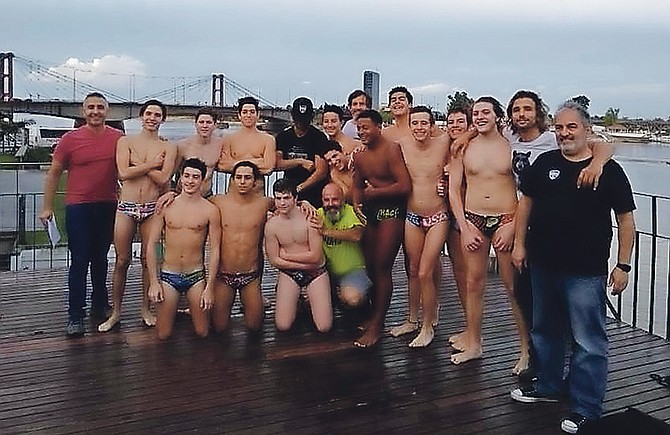 By RENALDO DORSETT
Tribune Sports Reporter
rdorsett@tribunemedia.net
GABRIEL Sastre Jr made the most of a rare opportunity to train and compete alongside an Argentinian water polo club en route to a tournament title.
Sastre recently joined GEBA Water Polo Club to a national tournament title in Santa Fe, Argentia. He finished the six-game event with a total of 21 goals.
Sastre finished with six assists and scored one goal in a 9-9 tie in game one. The team played a double header on day two when Sastre finished with four goals and three assists in a 15-14 win for his team followed by their 16-6 win in game four.
On the final day of competition, he finished with seven goals in a 9-7 win and nine goals in a 22-9 win as GEBA finished in first place.
His performance was the latest for Bahamas Mantas Water Polo Club as they continue to create new milestone opportunities for its student athletes in the sport.
Sastre earned the opportunity following a busy summer session, highlighted by an historic appearance at the USA Water Polo National Junior Olympics.
In a joint effort with the Houston Storms Water Polo Club, Sastre was one of six members of the Mantas to form a select team - BahTex ManStorm - that finished 24th out of 48 teams in the Under-16 Classic division at the event in San Jose, California. One member of the Houston Storms will accompany Sastre and will also join GEBA Water Polo Club in this month's event.
The USA Water Polo Junior Olympic Championships is the largest age group water polo tournament in America with over 400 teams competing over the course of the four-day event.
The Bahamian players first joined the Storms at the Southwest Zone Junior Olympics Qualifier tournament in Houston, Texas, last month where they finished fourth out of 10 teams. Bahamas water polo began its string of successes at the 33rd CARIFTA Aquatics Championships in Kingston, Jamaica with a trio of gold medals.
In July, the Under-16 Water Polo team concluded tournament play with a silver medal and secured Youth Pan Am Games qualification in El Salvador at the CCCAN Championships.
With the recent success of the Bahamas Manta Water Polo Club, head coach of the programme Laszlo Borbely said for the sport to continue its upward trend, corporate funding will be essential to its growth.
"We are establishing water polo life and this programme has grown a tremendous amount over the years.
"We are achieving great success, the players are getting new opportunities and exposure, we are creating new relationships with countries and other programmes all over the world but to keep achieving we need the programme to expand and that, of course, will require greater funding," he said to the Tribune prior to the Junior Olympics.
"I would like for more of corporate Bahamas to really come on board, to see the vision and see the marketability. As these teams continue to qualify and travel to more and more events of higher stature it will take funding to do so and to have them prepared to continue this success."