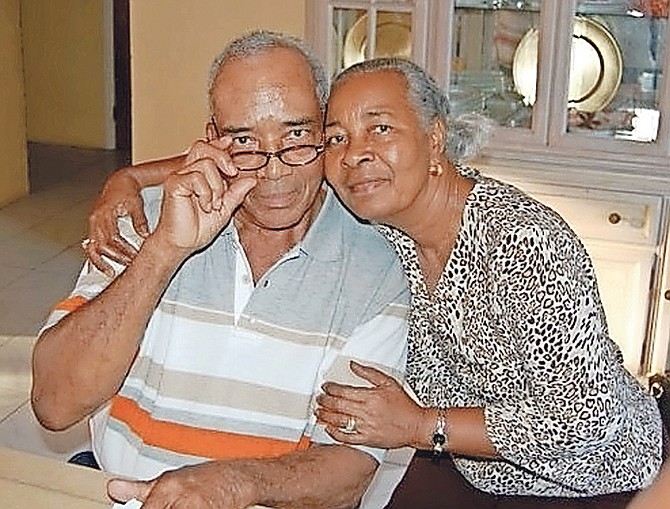 By RIEL MAJOR
PROMINENT Bahamian sculptor and artist Stephen G E Burrows, who dedicated his life to the culture of art in public spaces, has passed away.
The 80-year-old was the first Bahamian steel and metal artist to have his artistry publicly showcased throughout the islands of The Bahamas.
He created landmark sculptures that have delighted both Bahamians and visitors alike for decades, and his life's work was memorialised in 2014 with the establishment of the Stephen G E Burrows Foundation.
The objective of the foundation, formed by the seven children of Mr Burrows - LaVerne Deleveaux, Linda Treco, Stephen Burrows Jr, Lisa Bastian, Laurell Burrows, Faye Burrows and Felice Burrows - is to manage, maintain and continue their father's work, which began in 1973.
The family of Mr Burrows created a profile for Mr Burrows on foevermissed.com, where family member, friends, and supporters can read about his life, make tributes, and upload photos and videos.
A tribute by his son Stephen Burrows Jr, read: "Gonna miss you Stephen G E Burrows.... Unequivocally the greatest man to walk this earth since Jesus (my opinion). You left some huge shoes that I wouldn't even attempt to fill, but your life, your integrity, commitment, dedication to God, Shirley, your Kids is a blueprint we should all emulate. Just carrying your name is sometimes a burden...I've always wished that I could be like you and beat myself up when I fall short."
"But, during our last most serious conversation, you blessed me...and as your only son, that blessing changed my life. You gave me permission to be me, to be true to God and my family. I still fall short of perfect, but that burden is lifted. I don't even mourn you leaving because you've filled the lives of Shirls, La Verne, Linda, Lisa, Laurell, Faye and Felice with soooo much beautiful memories. Memories of a fun loving, curious, funny, turkey baking, jacks playing, spades lovin', Chinese checkers masterin', peas n rice cookin', always debating, coot shootin' man of so much color. Gonna miss you Steve. Don't go up in heaven trying to build no sculpture....its time for you to relax..... Love you big guy!"
Mr Burrows was best known for his creative pieces such as: the Conch Shell - John F Kennedy Drive and Westridge roundabout; White Crown Pigeon - JFK Drive and Blake Road roundabout; Flamingo - Clarence Bain Building, Thompson Boulevard; Rooster - Tonique Williams-Darling Highway and Baillou Hill Road roundabout; Bacardi Rat Bat - Carmichael and Bacardi Roads; Pompey - Steventon, Exuma; Iguana - San Salvador; and the Abaco Parrot - Marsh Harbour, Abaco.
He worked as a mechanical engineer and the former station manager of the Bahamas Electricity Corporation from 1956 until his retirement in 2008.
The first piece by Mr Burrows, the Coat of Arms, was created to celebrate the Bahamas' independence.
The Lobster, which is no longer standing, was perhaps the most popular piece by Mr Burrows, followed closely by the Conch Shell.
In 1984, Mr Burrows created an 18-foot Iguana, which the government of the Bahamas offered as a gift to the Wadsworth Atheneum in Hartford, Connecticut.
In 2014, his newest piece called the Triton Trumpet was slated to be displayed at the roundabout at John F Kennedy Drive and Thompson Boulevard.
At the time it was just weeks away from completion, and it was described as his most dynamic piece: a 30-foot dragon with mechanics built in, allowing it to emit fire and/or water.
In another tribute, his niece Valerie Dean wrote: "The Bahamas knew Stephen G E Burrows for these magnificent pieces but to my cousins, siblings and I, he was our Uncle, who told us at every opportunity how beautiful and special we all were. The younger Valerie was jealous of my cousins who lived down the street from him, even though I had the bestest tea making Uncle at home. Aunt Shirley, La Verne, Lisa, Linda,Stevie, Laurell, Faye & Felice. We mourn with you but please be assured our unceasing prayers as you continue to make him 'Oh So Proud'. May His Soul Rest in Peace and Rise in Glory! We love you Unca Steve, The Dean Clan."