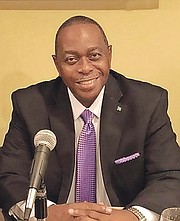 By MORGAN ADDERLEY
Tribune Staff Reporter
madderley@tribunemedia.net
A NEW political organization called the Kingdom Government Movement has set its sights on the 2022 General Election.
Led by Kevin King, a natural medicine doctor, the party's four areas of focus are: replacing the Westminster system of government, transforming the country's educational system and the economy, and the health of the nation.
Despite the organization's name, Dr King said the party is not necessarily a "Christian movement", adding that candidates do not have to be Christian to run.
When asked where the party will fall on the political spectrum, Dr King described it as "neutral", with no political colours, and a goal to bring together all Bahamians.
The party is also in favour of fixed election dates and two-term limits for prime ministers.
During yesterday's press conference, the Kindom Government Movement (KGM) unveiled its positioni on issues ranging from the country's ascension to the World Trade Organization (WTO), the state of Grand Bahama, and the legalisation of medical marijuana.

Dr King yesterday described the Westminster government as being a vestige of colonialism that "creates a stratified society and does not allow true democracy to occur in Parliament".
Instead, the party will implement a new system of government, and the country will be divided into "districts" that allow for more participation.
"The Westminster model as part of a larger 'independence pact' was designed to maintain the status quo in the English-speaking Caribbean and is responsible for the major challenges facing the Bahamas today," Dr King said.
"We therefore, of The Kingdom Government Movement, advocate for a broader conceptualization of sovereignty and calls for the invention of a new democracy."
During her remarks, party Executive Secretary Portia Duncanson said the Westminster system would be replaced with a parliamentary republic government.
Change
"It will be a parliamentary republic— we'll take the best of both," Dr King added. "The best of both systems and implement it into the (Bahamas). It's not very difficult to do. It's whether or not the Bahamian people have the will and the desire for real change."
"The government as we know it today will not exist in theory, how it is now," Dr King said. "It will be (a) totally different type of government. But it will not be a government where the Bahamian people will be shut (out). We're not going to make such a drastic change that the whole country becomes in anarchy…But there has to be changes."
Dr King is also against the Bahamas ascending to the WTO, describing his belief that the organization is "not good" for the country.
"I would not like to see it happen…We will never benefit from what this country has to offer under a WTO system," he said.
At yesterday's launch, Dr King underscored the party's intent is to respect "all Bahamians", regardless of political or religious persuasion.
"It's not a matter of being Christian, it's a matter of being like-minded citizens— you're interested in your country. It's not so much a Christian movement. It's a Bahamian movement," he said.
"And it doesn't matter what your political affiliation is, we're only concerned about Bahamians.
"You'd find that we have no colours. We're not interested in dividing the country. You can come as you are. So whether you want to wear gold, purple, red…that's up to you.
"This particular organization, we're not colour coded, we're not colour-minded. We are Bahamian-oriented.
"And if those persons feel that they have something to contribute to the (Bahamas), and they decide this is an organisation that they want to be a part of, then we welcome them.
When asked about the state of Grand Bahama, party member Jeffrey Symonette, a 32-year employee of BORCO, described the government purchase of the Grand Lucayan as a "desperate move" by the current Administration to create jobs in an area where tourism has always been secondary.

"Grand Bahama is in a desperate (state). It needs and can be redirected back to its original purpose…and that is to continue to move on in the industrial field," he said. "It can be recovered from a tourism point of view, but it's going to take more than the involvement of government."
Regarding the Oban Energies deal, Mr Symonette said it is a move that at this time, will "probably turn out to be more disastrous than beneficial".
"We cannot afford to be giving vital property of our country away to industries that (are) not going to give us a viable return for future generations," he added.
In this vein, a "pressing" KGM mandate is to "promote the development and transformation of an incipient economy", Ms Duncanson said, thereby eliminating the wealth gap.
Regarding the legalisation of medical marijuana, Dr King said "everything God created is good, if you use it correctly…Same thing with stem cell. These are all natural medicines."
Dr King also said the drug was initially "demonized" by pharmaceutical companies, noting he expects the government will ultimately pass "any bill" pertaining to the use of medical marijuana because the drug will be a "major revenue generator in the Western economy".
As for his personal position, Dr King said: "For me as a doctor of natural medicine…I told them the other day: I will wait and see. And I will follow the breadcrumbs."
When asked how the party will overcome the issue of being a "third party" in a country with a "two-party" history, Dr King said the last five years have been a "preparation for change".
"Change doesn't come overnight. But you can see the nation's dissatisfaction with both parties at this time."