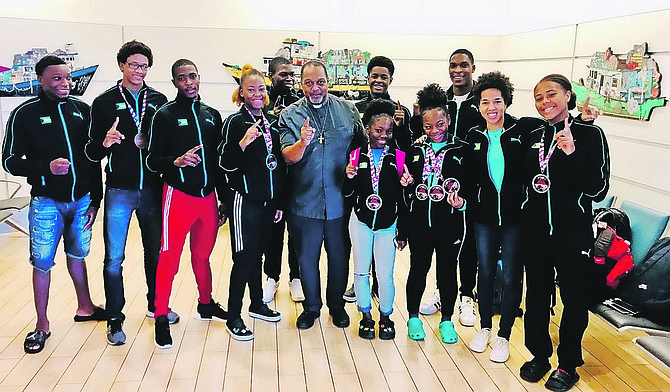 LED by Jasmine Russell, the Bahamian national team competed this weekend at the annual Ocean State Judo Championships, held in Providence, Rhode Island, bringing home the coveted best team trophy.
The Ocean State is one of the USA's best tournaments on their local circuit. It brings together competitors from the entire New England area as well as international competitors from Europe.
"Overall, the team did fantastic," said Oneysi Pons, head coach of the national team.
"The competition here is tough, and while everyone on the team didn't win medals, nearly all of them took matches and were competing for medals. We have some things to work on, but we are right where we need to be to have success at the Jr World Championships."
In judo, because there are two third places, the losers of the bronze medal matches are awarded 5th place.
"It is time to support this team," says D'Arcy Rahming Jr, High Performance director of the national team. "The championships are upon us and the athletes have trained hard and the results are showing.
"But they need the support to carry them over the edge," he added.
"We have never had a team this good and this well-prepared."
The World Juniors is scheduled to be held in Nassau October 17-21.
Over 70 countries from five continents and 650 athletes, coaches and delegates have confirmed attendance, making it the largest sport tournament ever held in the Bahamas in terms of numbers and diversity of countries.
Individual
Results
Jasmine Russell (u-44kg) Cadet - Gold, Jr - Bronze
Mya Beneby (u-57kg) - Cadet - Silver, Jr - Bronze, Sr - Bronze
Raven Pennerman (u-70kg) - Jr - Silver
Breanna Major (u-70kg) - Jr - Gold
Jevon Bethel (u-60kg) - Jr - 5th place, beating Rustam Bariyev (USA) for blackbelt
Davante Sweeting (u-66kg)
Desmond Bootle (u-66kg) - Sr - 5th place
Andrew Munnings (73kg) - Jr - Bronze, Sr - 5th place
Dre Hall (73kg) - Jr - Silver
Lyle Sherman (u-81kg) - Jr - 5th Place
Desmond Bootle (u-81kg) - Sr 5th Place
Daleon Sweeting (u-90kg)
Larry Marshall (u-100kg) - Jr-Gold, Sr - Silver: Beating blackbelts Will Cherry (HAI) and Benjamin Lind (USA)
Standout
Performances
Jasmine Russell (u-44kg) - Lost one match by a counter throw, but came back and won her next division, dominating everyone she faced, winning each match by ippon (knockout).
Larry Marshall (u-100kg) - Defeated two formidable blackbelts, including Will Cherry, who represents Haiti, and Benjamin Lind who represents the USA. His only loss came against Stoichko Tarpanliyski, formally from Bulgaria. Larry threw Tarpanliyski twice for no score, but was ultimately beaten by the more experienced opponent.
Desmondo Bootle (u-81kg) - had the best groundwork of the tournament, choking his opponent to submission. To support your national team, please contact us at 431-0242.