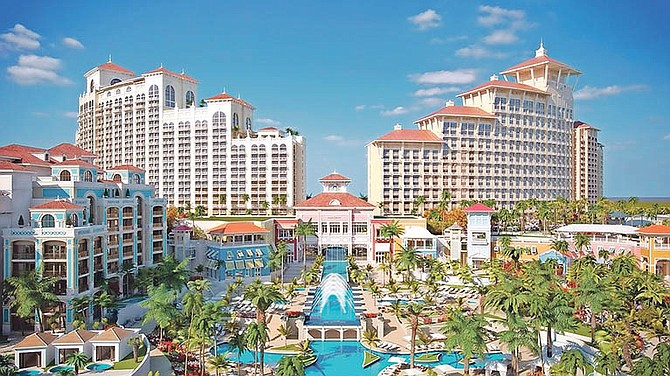 By ALESHA CADET
Tribune Features Reporter
acadet@tribunemedia.net
As part of Baha Mar's ongoing initiatives to promote well-being and create a positive workplace, the resort destination recently announced the implementation of expanded services for Baha Mar associates.
One of which includes a partnership with the Bahamas' Family Medicine Centre in an effort to open an on-site family medical clinic for all Baha Mar staff and associates. The practice, located on-property, will have doctors facilitate annual physicals, walk-in primary care, chronic disease management, vaccinations, lifestyle and nutrition counselling, lab services, and a pharmacy.
The clinic will be available to all Baha Mar staff and visits will covered by the resort's medical insurance that covers free annual medical exams, including pap smears, mammograms and prostate-specific antigen blood tests. All other services are offered with a minimal co-payment fee.
These new amenities join Baha Mar's already existing offerings, including medical benefits for all associates and Bluetique, a general store providing groceries and family necessities at a often discounted rate.
"At Baha Mar, our commitment to our associates is to provide a culture of respect, world-class amenities, and showing deep appreciation for their passion and dedication," said Graeme Davis, Baha Mar president.
"We are committed as a corporate citizen and believe our associates are our number one priority. We prioritise the health and well-being of our associates and are committed to providing world-class amenities including convenient access to high-quality medical care."
He said the team at Baha Mar seeks to inspire passion from staff members and firmly believes that when people are inspired by their workplace, creativity and excellence follow.
"Our teams work hard to deliver world-class standards for our guests, and we are extremely proud of the Baha Mar experience they deliver every day. In turn, Baha Mar is continuously looking for ways to make everyday life easier and more convenient for our associates. At Baha Mar we are always looking to attract the best and brightest talent in the Bahamas. We understand the importance of providing a positive work environment for our associates," said Mr Davis.
"Physical and mental well-being is of utmost importance to Baha Mar. Placing the clinic on-property facilitates ease of access to doctor's visits and exemplifies Baha Mar's commitment to keeping associates healthy."
How do initiatives like this assist in helping improve the health of the Bahamian community? Mr Davis said Baha Mar is passionate about educating the community and promoting a more health-conscious society.
He believes providing access to health and medical services makes a significant difference in the lives of the staff and their families.