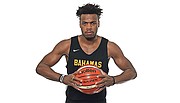 By RENALDO DORSETT
Tribune Sports Reporter
rdorsett@tribunemedia.net
COMING off what he called "one of the best summers" of his life, Buddy Hield is poised to make improvements to his game and for the Sacramento Kings in the 2018-19 season.
Hield took centre stage as the Kings opened training camp with Media Day yesterday at the Golden 1 Center Practice Facility in Sacramento, California.
"I think it was one of the best summers of my entire life. Just working out, travelling, having fun and being a young guy, it was great," Hield said. "There's a lot of young guys on this team, we've finally been gelling together and it's been great. We've just got to keep getting better, learning about each other and we can't wait to get on the floor and get after it."
Hield finished last season as the Kings second-leading scorer averaging 13.5 points (.446 field goal percentage, .431 three-point percentage, and 88 three throw percentage), 3.8 rebounds, 1.9 assists, 1.06 steals in 25.3 minutes per game. He started just 13 of his 80 appearances in his second season.
"As you get older and more experienced you start to figure out what works and what does not work in the NBA. Sometimes you make a play for a teammate and it comes back to you, it's just making the right plays, playing together as a group. Realising it's not about scoring the ball, but getting wins, we're all doing great, we'll all be happy at the end of the day."
Hield noted improvements to his game and his workout regimen in the offseason that the Kings' fanbase should expect to see this season.
"My playmaking ability - just passing, working with ball screens and passing cross court off the ball screens with either hand, left or right, that's my biggest improvement something I've been working on. When the opportunity presents itself, I'll show you everything I've been working on," he said. "I've been in the weight room, I just work on the right things. I've just been working on being cut and more fit. I've been working on my plyometrics, lifting, running and just working on things to be more fit."
With that improved playmaking ability, Hield said he would be fully prepared to see some action at the point guard position.
"I have confidence I can do that. Why not?" he said. "We're packed at the point guard spot, but you never know, this is the NBA, it happens where I may have to move to the one, coach may draw up a play where I have to bring the ball down or we have a offence where I get it, I push it and we go but I'm available that's why I've been working so hard on stuff like that, there's nothing wrong with making plays for your teammates. Teammates like that."
This summer, Hield was back in Grand Bahama to host the fourth edition of his summer basketball camp. He hosted the three-day event simultaneously in Freeport and Eight Mile Rock, Grand Bahama.
He also participated with the senior men's national team in the third window of FIBA Americas World Cup qualification in Puerto Rico. Hield scored 19 points and Team Bahamas escaped with an 83-82 win over the Dominican Republic to close out the third window for the team's only win of the round.
The Kings exercised its team option on Hield moving forward for the 2018-19 season during a season of accolades.
Hield participated in the Mountain Dew Kickstart Rising Stars Challenge, the Taco Bell Skills Challenge and he was also one of several players who hosted various NBA Cares Clinics during the NBA All-Star weekend.
He helped the World Team to a 155-124 win over Team USA at the marquee event for the league's second and first-year players.
Hield's numbers were in MVP contention with 29 points, five made threes, three rebounds and three assists.
However, Kings teammate Bogdan Bogdanovic would go on to win the award.