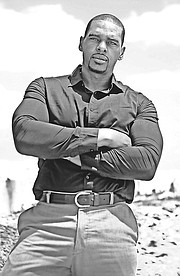 Health coach Ethan Quant, of Elite Wellness Solutions, has succeeded in his weight loss journey and now wants to share his methods with the Bahamas in an effort to foster a culture of wellness and conquer the obesity epidemic.
We all know that once summer ends and the kids are back in school, the rest of the year seems to fly by. Before we know it, "eating season" (I mean holiday season) is upon us.
I know that one of the things I struggled with was getting adjusted to the school rush, which normally took me until the end of September. Then October would pass in a blink of an eye, and by the time I was done eating all of the Halloween candy it was Thanksgiving.
Yes, I know we don't really celebrate it as a public holiday here in the Bahamas, but I surely ate all of the Thanksgiving delights to my heart's content. After all, what better way is there to welcome "the Christmas", as we like to refer to it. There is not a more festive time in the country where you are sure to attend parties and "tote" take-home plates. Honestly, my refrigerator would be stocked front to back with Styrofoam containers.
Naturally, I used to look at these last few months of the year and think that there is nothing I could have done to get back on track with the health, wellness and fitness goals that I had set at the beginning of the year.
However, I learned that not only was there still hope to revive those goals, but I was able to make lots of progress towards them and cruise into the end of the year with a transformed mind and body. Remember, it's never too late to be great! Here are a few tips you can use to make the most out of the time between September and mid-December.
1 Take a look at your original goals and adjust them where needed
There is nothing wrong with adjusting your goals. A very important factor is to make sure that they are realistic goals. Set small short-term goals that you can accomplish. Focus on process goals as opposed to outcome goals. A strategy I used was setting one physical activity goal and a nutrition goal each week. For example, I would swap out one unhealthy meal for a healthy one. Additionally, I would take a short walk – about 20 minutes - at least one day out of the week. Based on how my body responded after maintaining that regimen for two to four weeks, I would increase my intake of healthier foods, as well as the length of time I walked.
2 Commit to being consistent – We hear all the time that 'consistency is key'
In most cases, this is true; not just for your health, wellness and fitness journey, but in life. Once you decide what you are going to sacrifice to make the commitment, you must be consistent to achieve and sustain success. This is why it's important to set realistic goals. In this instance, it's OK to set the bar low because you are more likely to be consistent the easier the activity is.
3 Track and monitor your progress
This may sound like a huge task, but it's really not. There is so much technology that exist that no matter what you want to track, be it food intake, physical activity, sleep, even water consumption. There is probably an app you can download to assist you. Even if you aren't tech savvy, nothing beats taking the traditional approach of using pen and paper. Whichever way you decide to do it, be sure to track and monitor your progress. By the end of the year, you will be pleasantly surprised at how far you have come by making those small, consistent steps toward your goal.
4 Get an accountability partner
An accountability partner is someone that will check in with you to make sure you are hitting your targets, and if necessary, 'hold your feet to the fire', so to speak. Ideally, you would want to have your friendly Elite Wellness Solutions certified health and lifestyle coach to be your accountability partner. But it can be anyone; a friend or family member, your trainer, fitness instructor, or even a co-worker. The most important thing is having someone in your corner that will be consistent with your check-ins and truly have your best interest at heart!
I do hope you found this information helpful and apply it to your health, wellness and fitness journey. Let's finish the year off strong!
• If you need help navigating any part of your health, wellness and fitness process, you can contact Ethan Quant at ethan@elite-wellnesssolutions.com or on Instagram at @ethanquant.