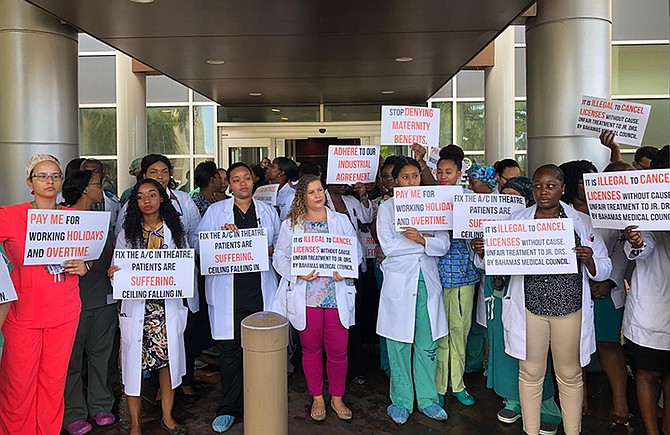 By RICARDO WELLS
Tribune Staff Reporter
rwells@tribunemedia.net
DISCUSSIONS are underway between the Public Hospital Authority and junior physicians following last week's demonstration outside of the Princess Margaret Hospital, according to managing director Catherine Weech.
Mrs Weech said officials met with junior doctors yesterday as a part of efforts to bring them to the table and address their concerns.
She spoke with reporters on the sidelines of the opening ceremony for PHA's Rehabilitative Service Week.
While she didn't reveal any details, Mrs Weech underscored the meeting was cordial, collaborative and engaging. She insisted the governing body remained focused on addressing all issues moving forward.
When asked if the PHA's financial standing would limit the organisation's ability to ease tensions with the various unions, the managing director admitted she was unsure how the process would play out.
Mrs Weech told reporters her handling of the crisis involved working with the various practitioners to present PHA's position, while allowing the policy makers to guide both sides accordingly.
She added: "I hope that we would all see the value in coming to the table because I believe that they understand that they are valuable to our healthcare delivery system and that whatever progress that we make, we must make as a team."
Last Wednesday, the Bahamas Doctors Union staged a walk-out at Princess Margaret Hospital. The sources of contention included the PHA's refusal to honour maternity benefits, overtime pay, holiday pay, work duration agreements, licensing and registration protocols and address several longstanding adverse working conditions.
The BDU was supported by nurses union President Amancha Williams. The PHA is also facing strike threats from its nurses.
The following day, the Consultant Physicians Staff Association (CPSA) members temporarily vacated their posts to stand in solidarity with the BDU and BNU.
Earlier this month, CPSA President Dr Locksley Munroe revealed his union was seeking a strike certificate after failing to finalise an industrial agreement with the PHA despite more than two years of negotiations.
Mrs Weech addressed the status of negotiations with each of these organizations on Friday.
Regarding the BDU, she said the PHA is "of the opinion that there are no outstanding matters related to maternity benefits".
She added the PHA met with the incoming Board on August 24th, and discussed maternity benefits, holiday pay, and length of time given on new contracts with junior doctors.
Mrs Weech also said the PHA extended an invitation to the BDU for a follow-up meeting to discuss any further matters of concern, noting the offer still stands.
She noted the PHA has negotiated with the CPSA over the past nine months and has "agreed to all the non-financial articles with that Association".
The PHA Managing Director added financial terms are currently being negotiated, with the last meeting held on July 6th. According to Mrs Weech, "conflicting schedules" have caused the deferment of the last agreed meeting date.
There was no indication by Mrs Weech yesterday if or when talks will continue.