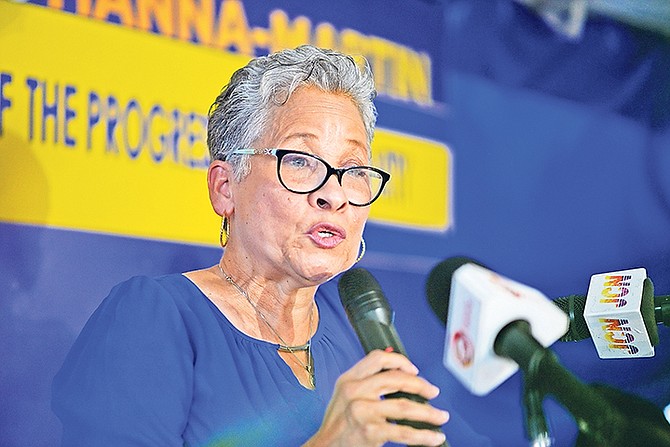 By MORGAN ADDERLEY
Tribune Staff Reporter
madderley@tribunemedia.net
FORMER Transport Minister Glenys Hanna Martin described the Minnis Administration's treatment of the Arthur's Town, Cat Island airport as "unacceptable" in a statement released yesterday.
She was responding to comments by Tourism and Aviation Minister Dionisio D'Aguilar, who revealed the government is at a "crossroads" over whether it will repair or permanently close the airport.
On Monday, Sky Bahamas announced it was immediately suspending flights to the Arthur Town airport over runway safety concerns.
Mrs Hanna Martin, Opposition Shadow Minister, questioned the government's handling of this issue, particularly why repairs were delayed, whether the community had been addressed, and the importance of air connectivity to economic development.
Mr D'Aguilar referenced a 2013 Christie administration report, which assessed the economic viability of all 28 Family Island airports and recommended the Arthur's Town airport not be refurbished or repaired.
Instead, the report concluded the airport be permanently closed and the New Bight, Cat Island airport be upgraded and used to service the entire island.
Mr D'Aguilar said the government "hasn't made a decision on what to do".
"There are just simply too many problems and not enough money," he said, "...and given the priority of this government to focus on airports that will yield substantial investments, such as Exuma and North Eleuthera, it is truly hard to say."
In her statement, Mrs Hanna Martin asked why the government has neglected the repair of that active runway, knowing "the obvious implications" to aviation safety.
"Secondly, has the Minister considered that that airport services a community who have come to rely on air connectivity to sustain their way of life and that any decision made whether actual or by default should only be made after having due consideration to the needs of that community and only after dialogue and consultation with that community?" she continued.
"Thirdly, is the Minister suggesting that the decision not to repair is being influenced by a Consultant's report recommending that airport be shut down for economic reasons?"

"Fourthly," she said, "is the Minister aware that air connectivity is essential to economic development and not necessarily the other way around and that any decision made relative to this and any other of the many airports throughout the archipelago should be on a considered basis having regard to our national development aims and objectives and in particular those of people of Cat Island?
"That comparison to other airport(s) such as North Eleuthera and Exuma is erroneous and is akin to comparing apples and oranges."
Mrs Hanna-Martin said: "Finally, it is unacceptable that the government has failed to address the safety issues at that airport and has failed to provide a more comprehensive response to the fate of that airport but has instead put into the public domain comments which may only increase the anxiety of the Cat Island community.
"Of course serious questions now arise as to the current state of safety at that airport for all other air traffic."
In April, Prime Minister Dr Hubert Minnis addressed the issue of the San Salvador airport during a town hall meeting on the island, saying at this time, the only upgrade he can promise is a new terminal.
Dr Minnis said with the $30 million to $33 million allotted for the 28 airports throughout the country, it would be more beneficial to focus on airports with bigger markets such as Exuma and North Eleuthera.