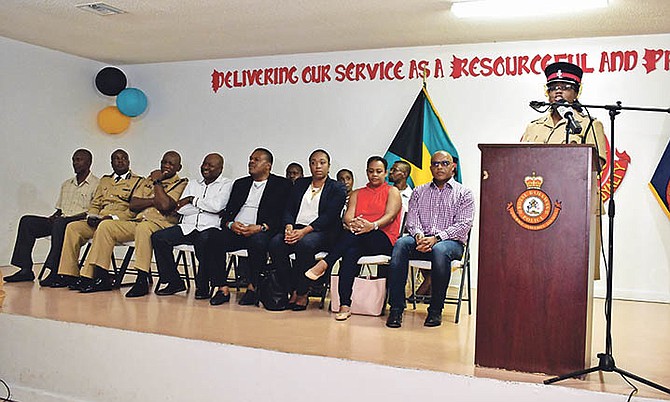 By DENISE MAYCOCK
Tribune Freeport Reporter
dmaycock@tribunemedia.net
MORE than 60 residents in Grand Bahama have completed their training for the National Neighbourhood Watch Council to help reduce crime in communities throughout the island.
National Security Minister Marvin Dames told some 65 graduates assembled at the Police Training College in Freeport on Friday that they will work together with the police to help take back neighbourhoods from the hands of the criminals.
"We will show the criminal element that there ain't no place in any of our communities for them, he said. So we are going to do it by way of effective networking between communities and the police, and by way of education and use of technology to assist in crime prevention."
"We will do it because this programme will allow us to assert ourselves in neighbourhoods and take control of them once again to wrest them out of the hands of those who are hell bent on causing the problems," said Minister Dames.
He noted that housebreaking's have been a major problem in Grand Bahama, but the establishment of the NNWC in communities is expected to significantly decrease such incidents.
"There is no reason why we can't wipe it out. If we have effective communication between the police, residents, and communities in an organised way, we can shut down almost every neighbourhood on this island and reduce housebreaking and stealing significantly, and that is what we are seeking with the establishment of NWC," said Mr Dames.

He indicated that there are many groups in Nassau that are affiliated with the neighbourhood watch council.
Mr Dames noted that over the past years a number of neighbourhood watch groups that were created throughout the Bahamas have fallen along the wayside.
The minister said putting up neighbourhood watch signs is not going to keep people safe and stop criminals.
"There are sign saying this area is protect by a crime watch group. Too often we see it throughout this country and then when you look at statistics the police are reporting breaking after breaking, and stealing after stealing - no, we are putting something in place in this nation that will protect neighbourhoods for years to come," he said.
"What we are seeking to achieve is simple, we want to bring the police and the community together. We are all Bahamians working towards a common goal, but for some reason over the decades we continue to move further apart," he said.
Mr Dames said Bahamians have become too selfish and now criminals are taking over.

"The reality is that we are talking about a small group of individuals, but they are more organized, and more efficient in their operations.
"When you live in communities that is inundated with breakins… you try to figure out how is this happening; and it is happening because there is no organization and team work. Criminals capitalize on our disjointedness, and are not being able to network and come together to find solutions to the problems that impact the community," he emphasised.

Mr Dames said the graduates will go back and form crime watch groups in their community. A police officer will be assigned as a community liaison who will be responsible to appraise them of crime activity in their area and discuss issues affecting their community, and work on measures related to crime prevention and apprehending perpetrators.


"We will use technology. Imagine you have a small command room in your neighbourhood that is equipped with communication and CCTV, and every home is connected by way of that," he said.
Mr Dames commended graduates for becoming a part of something that will benefit their community and by extension the nation.
He noted that as the RBPF work towards restructuring the police reserves, they will look at an opportunity of inviting many of them to become a part of the new RBPF Reserve they are working to rebuild.
"The idea is that we only have room for people who are willing to make a difference. This is not the kind of business for spectators, you can't be a spectator when fighting the criminal element. We all have a vested interest to keep our community safe, and by extension our nation.
"Let us get the notion out of our head, oh what the police doing? You cannot speak about success in crime fighting without highlighting the important role of a community watch. In my mind the role of the community is equally important, and in some cases even more important to the prevention of crime," he said.

Senior Assistant Commissioner of Police Stephen Dean, NNWC coordinator, said the programme is very ambitious.
"It is one of the greatest crime prevention strategies that we have embarked on in this country," he said. "It is all about community empowerment and restoring peace."
Mr Dean said even with all the technology in the world and all the equipment for crime fighting, the best defence against crime are people.

"Nothing can substitute for that," he said.