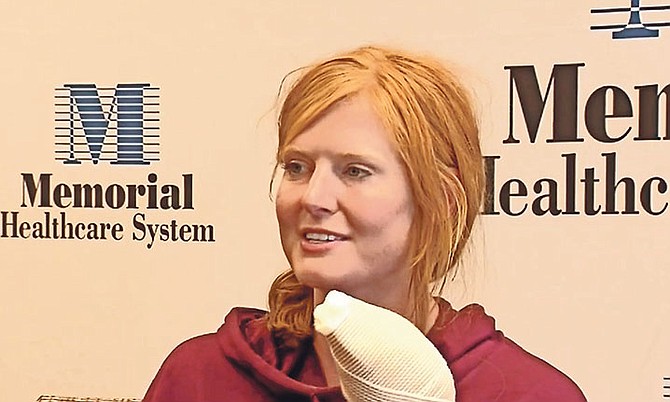 By MORGAN ADDERLEY
Tribune Staff Reporter
madderley@tribunemedia.net
AN American woman bitten by a shark in Abaco on Sunday says she plans to return to The Bahamas in just "a few days" and will go spearfishing again.
Maggie Ewing, 31, of Massachusetts, was spearfishing in the water just off Treasure Cay when a black-tip reef shark bit her hand. She was subsequently airlifted to Memorial Regional Hospital in Hollywood, Florida, where doctors found "traumatic lacerations" to her fingers and a shark tooth lodged in one.
Ms Ewing underwent successful surgery on Monday and was discharged on the following day. Doctors were able to save all of Ms Ewing's fingers and she is expected to make a full recovery.
In an interview with ABC-affiliated WPLG Local 10 News, Ms Ewing and her boyfriend Jason Dorfman described the attack, which occurred after Ms Ewing had caught a hog fish.
The shark was attempting to snag the fish from the tip of her spear.
"It's a spot we've been to hundreds of times," Ms Ewing, whose family owns a vacation home on the island, told reporters. "I actually turned around to see if any sharks were coming before going up."
"And I felt the pain instantly and turned around and a shark had come over this shoulder (left shoulder) and sort of latched onto my hand."
The shark let go and Ms Ewing quickly swam back to her boat. "I…was sort of laying on the deck of the boat, attempting to stop the bleeding, really dizzy and uncomfortable," she said.
"I don't think I've ever been as terrified in my life," Mr Dorfman added. "I thought she was going to bleed out. She was turning pale and I was losing it."
After assessing the scene, local officials determined that Ms Ewing's condition was critical and required major medical services.
A Florida air ambulance service was contacted and Ms Ewing was airlifted to Memorial Regional Hospital.
"The index, long, ring and small fingers were all involved and had traumatic lacerations," Dr Yim Kan Hwee told reporters. "Once we washed and exposed her lacerations, we did find a shark tooth on the third finger."
Doctors were able to save her fingers and hand, and "with some therapy", expect her to make a full recovery.
Ms Ewing said she does not blame the shark for the attack, plans to return to the Bahamas in a few days, and will be back in the water when doctors allow her to.
"I know sharks aren't really going for me," she said. "He was totally going for the fish. It was my mistake but, nonetheless, he got me."
"I think anyone who dives or spearfishes knows there's an inherent risk. It's definitely a risk that I would take again. It's one of my favourite things to do. It happened, I'll deal with it and I'll get back into the water."