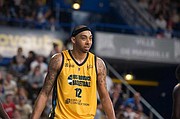 By RENALDO DORSETT
Tribune Sports Reporter
rdorsett@tribunemedia.net
THE French Pro A League tipped off the 2018-19 season and both Bahamian players made their season debuts.
Jaraun "Kino" Burrows and his Fos-Sue-Mur Provence Byers competed in Pro A for the first time while Jonathan Augustin-Fairell played his first games with Cholet Basket.
Burrows finished with four points, four rebounds and three assists in the Byers' 88-74 loss to Chalon. He improved his numbers to 11 points and three rebounds in game two, but his club suffered an 81-80 loss to Chalons-Reims to fall to 0-2.
Fairell finished with nine points and seven rebounds in a 112-75 upset loss for his Cholet Basket club to SIG Strasbourg.
Strasbourg scored 70 points in the paint, a 30-point advantage and outrebounded Chole Basket 40-26. In game two, he finished with a double double - 11 points and 10 rebounds - in an 83-77 loss to Le Mans.
Burrows and FOS won the France LNB Pro B title last June with a 76-70 win over Roanne to claim the league title and was granted promotion to the LNB Pro A league for the first time in club history.
Last season, he posted averages of 13.9 points, 5.1 rebounds per game on 62 per cent shooting from the field. Burrows first signed with the Byers in April 2016 for a late-season stint and playoff run. In 12 games, he averaged 10.7 points, four rebounds and three assists in just over 25 minutes per game and the team reached the Pro B semi-finals. He agreed to return to the team for the 2017 season, his first full campaign with the club.
Augustin-Fairell begins his first full season in French Pro A.
At the end of last season he signed with JDA Dijon as the team began their playoff run last May. He was called up to replace Jacques Alingue and in two games with the club he averaged five points and 3.5 rebounds per game.
He averaged 11.8 points and 6.7 rebounds per game during the regular season for ADA Blois of the French Pro B League and was also named to Eurobasket.com All-French ProB Honourable Mention and League Player of the Week twice.
Augustin-Fairell appeared as a member of the Bahamian national team this year during the FIBA World Qualifiers.
In his debut for Team Bahamas, he finished with four points, two rebounds and two assists in a loss to the Dominican Republic.
Fairell spent the 2016 season with SPO Rouen Basket of the French Pro B League. He averaged a team-high 14.5 points, 6.8 rebounds, 1.3 assists and 1.1 steals per game last season in 34 games for Rouen.