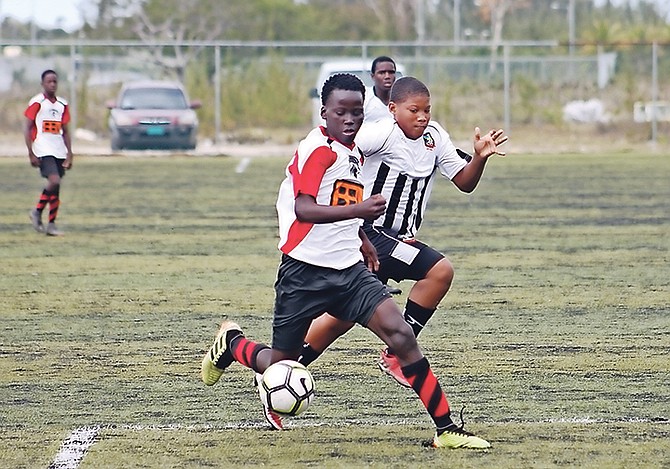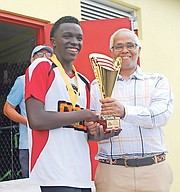 IT was a weekend of intense soccer action at the RALD Field as the finals of the Under-15 Boys was determined.
After an end-to-end battle, the Western Warriors FC came out the victor with a 3-1 score of the Dynamos Football Club.
In the bronze medal game, the United Football Club won convincingly over the Cavalier Football Club, 6-0 secure the bronze medal.
Minister of Tourism Dionisio D'Aguilar presented the awards to the players in front of a wet but sizeable crowd at the stadium.
In other news, the Under-19 Girls division got a little tighter after Saturday evening's games.
The Renegades WFC put on a clinic as they showed they are peaking at the right time as they dismantled the Cavalier WFC 9-0. Paige Smith scored at will to lead the Renegades to victory.
In the feature match-up, the game between division leaders Western Warriors WFC and the Dynamos WFC ended in an exciting draw as Cimone Hanna came of the bench in the second half to score a hat-trick to secure the point of the Warriors who were down at the half. The Dynamos WFC got goals from young Alexis Williamson, Angel Daxon and Mia Williams to round out the game.
This weekend's matches will set up the playoffs schedule.
Under-18 Boys:
The Future Stars Under-18 Boys took one step closer to winning the championship as they dismantled the vaunted Western Warriors FC and Coach Paul James 4-2 to win the runner up slot in the playoffs in the sudden death match held this afternoon at the RALD.

The Future Stars got goals from Dion Desamours (2), Mikendy Paul (1) and Ricardo Joseph (1) to seal the win.
The Future Stars now join the Bears FC, United Orange and Renegades FC in the playoffs beginning April 10.
Under-13 Boys: In the under-13 Boys Division, the teams are set for Saturday April 6. After the dust settled on Saturday, it left four teams set for the playoffs:
Baha Jr, Future Stars FC, Western Warriors FC and the Renegades Sharks.
On Saturday, April 6, the matches will be:
9am Atlantic Div winner (Baha Jr) vs Oceanic DIV Runner Up (Future Stars FC)
9am Oceanic Div winner (Western Warriors) vs Atlantic Div Runner Up (Renegades Sharks).