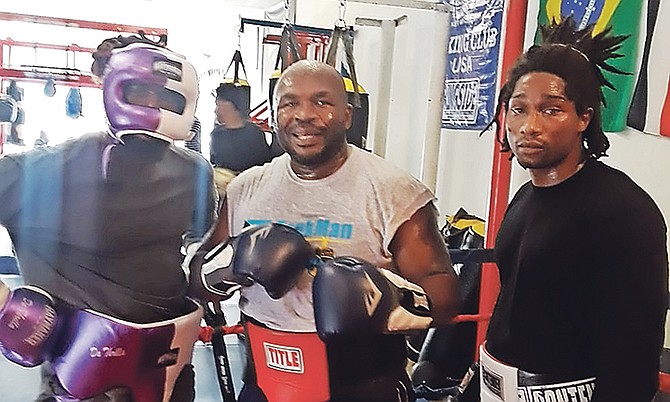 By RENALDO DORSETT
Tribune Sports Reporter
rdorsett@tribunemedia.net
Just days away from Backyard Rumble II, Sherman "Tank" Williams learned that he will headline the card against a new opponent.
Bahamian Sons Sports and Entertainment 's Back Yard Rumble II will be hosted Saturday, April 13th at the Kendal Isaacs Gymnasium featuring six professional and three amateur bouts.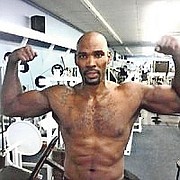 Williams was originally scheduled to face Orlando "Knockout" Farias of Argentina in the 12-round main event, however, Farias withdrew and will be replaced by Stacy "Bigfoot" Frazier of the United States.
"We had a successful training camp all is good and we're ready to go. I feel confident, I feel strong, so at this point, it's just staying loose and keeping up with my conditioning. But I feel good and I'm ready to go," Williams said, 'Unfortunately, we just recently found out that Farias is claiming he suffered injuries and pulled out from the fight and they replaced him with Stacy Frazier. We spent the last 4 months, preparing for Farias, but now attention shifts to Frazier. He should be in shape because he was in camp for an April 28th fight and they were able to use him."
Frazier, 49, has a record of 16-21 and has lost his last six bouts, most recently on September 9, 2017, in Muskogee, Oklahoma.
Williams, 46, comes into the bout with a 41-15 and has won his last four bouts.
The winner of the bout will claim the vacant Universal Boxing Organization UBO Inter-Continental Heavyweight Title.
"My preparation is the same, no matter who my opponent is, I just look to impose my will. He has the size advantage but once I get inside I look to do damage.
"I take care of myself mentally, spiritually, physically and I still have the passion and desire for fighting. My sparring partners were 24 and 28 and I still manhandled them so I'm prepared to face anyone."
Also expected to fight on the undercard include Israel Johnson (BAH) against Chad Richardson, Shaquan Seymour (BAH) against Toriano Nicholas (JAM); Tyrone Oliver (BAH) against Nico Yeyo (JAM); Chino Sherman (BAH) will contend with Fabian Tucker (JAM); Malik Glinton (BAH) will be matched against Alando Lewis (JAM) and Shayan Shabab (MEX) will battle Ramel Lewis (JAM).
It was back in 2013 when Williams got into promotions with Bahamian Sons and having gone through the process as a boxer, he's following in the footsteps of a number of professional boxers who control their own destiny to provide the options and the opportunities that they had.
They hosted their first event last year in Grand Bahama.
"I think this is going to be the beginning of something new, not only here in Nassau, but throughout The Bahamas. I think we have the ability with all this local talent to produce some regular local programming and sports entertainment and to get all of the islands familiar with the fighters again."
He said The Bahamas always had the "goods", but it's all about building a solid platform for them to harness their professional skills in their own backyard.
"I think that along with the support of the Bahamas Boxing Commission, with the support of (Ministries) Sports and Tourism and with the support of the corporate sponsors already on board, I think we are going to embark on an exciting summer, starting April 13, Back Yard Rumble II is the place to be."
With a home base, Williams said the cadre of young boxers could go on to become champions in every weight division.
I expect these events to have a massive effect. We used it as a platform to turn two local fighters pro thus far Anthy "Psyco" Woods and Tyrone Oliver and we want that to continue. On this card, we have six boxers turning pro, and I feel that it is my obligation and duty to create a platform for the fighters coming after me. Boxing went dormant and that bothered me so I just want to advance the future champions. The talent is here, not everyone wants to run track and play basketball I just want ppl to embrace this talent we have out there."