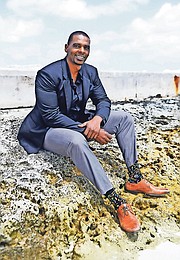 Health coach Ethan Quant, of Elite Wellness Solutions, has succeeded in his weight loss journey and now wants to share his methods with the Bahamas in an effort to foster a culture of wellness and conquer the obesity epidemic.
I have noticed over the past several years that workplace wellness or employee wellness programming has become more popular.
However, corporate Bahamas is still very far behind other countries when it comes to employee well-being. I will say though that more and more companies are starting to realise that something should be done. Now whether they are motivated by the rapidly rising health care costs or the loss of revenue through lack of productivity resulting from an overweight and obese workforce, I can't say. What I can say is that it is good to see more companies at least talking about employee health and well-being.
While this is a good trend, we have to understand that effective employee wellness programming goes beyond our Bahamian favourite, "The Biggest Loser" challenge, or bringing in a "trainer" to run staff members around the parking lot three days a week, or a nutritionist coming in to say how your plate should look like a rainbow, and how you are supposed to eat five servings of fruit and vegetables a week.
Don't get me wrong, these things all have a place. However, effective employee wellness programming takes a holistic approach to wellness and puts health wellness and fitness in the context of lifestyle. The old way of simply telling people what to eat and which exercises to do is ineffective, and it shows in the statistics. Year after year, healthcare costs, NCD-related deaths, and poor quality of life that plague Bahamians continue to exist.
We must realise that in order to win the fight against obesity and NCDs in the country, effective wellness programming should be implemented. Such programming must be innovative, including more than diet and nutrition and physical activity programming. While these factors are of great importance, studies show that the most effective wellness programming combines diet and nutrition education and physical activity programming with lifestyle modification techniques.
For this reason, a focus on lifestyle modification and behavioural changes has to be a major component of employee wellness programming.
So-called "health behaviour change interventions" (HBCIs) have the potential to improve the health of populations if they can be scaled up and appropriately targeted, considering issues like difficulty and motivation for change." (Resnicow, Teixeira, & Williams, 2017).
So how does this progression to effective employee wellness programming look in real time?
Firstly, we need to change the narrative and shift the focus from weight loss to healthy lifestyles. I am sure we all know someone who has undertaken some pretty unhealthy and unsafe measures to lose a couple of pounds.
Then, employee wellness should be integrated into the overall business strategy of the company and not viewed as something separate and apart. It should be woven into every aspect of the business model and create an environment where employees are encouraged to take small consistent steps to improve their wellness.
Lastly, studies show that when company leadership is more aware of their own personal health and wellness, and moving actively to improve it, employees are more likely to actively participate and be engaged in wellness programming and initiatives offered by the organisation. So the company leadership should be fit to lead... see what I did there?
Does your company offer any type of wellness programming? If the answer is no, then you should look into that. Employers must make the health and well-being of employees a priority. If the answer is yes, how effective is it?
Remember, if you need help navigating this or any part of your health wellness and fitness journey, please feel free to reach out to me. #letgetit
• If you need help navigating any part of your health, wellness and fitness process, you can contact Ethan Quant at ethan@elite-wellnesssolutions.com or on Instagram at @ethanquant.