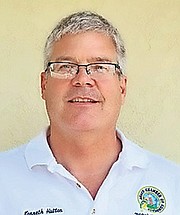 By NEIL HARTNELL
Tribune Business Editor
nhartnell@tribunemedia.net
The Abaco Chamber of Commerce's president says the fate of the $580m mixed-use resort project proposed for the island's south will be decided by the environmental impact findings.
Ken Hutton told Tribune Business that while the Tyrsoz Family Holdings development "covers a lot of the necessary bases", and has the Chamber's support from an economic impact perspective, much depended on the Environmental Impact Assessment (EIA) and subsequent Environmental Management Plan (EMP).
Confirming that he had personally met with the project's development manager Ronnie Ben-Zur, chief executive of French Quarter Holdings, and members of his team, Mr Hutton said: "I think the project itself looks like a very good project.
"I think they've got a lot of the necessary bases covered, but I think it all comes down to the Environmental Impact Assessment and Environmental Management Plan to make sure what they're proposing will not be destructive to the environment.
"Economically, of course, we're definitely in favour of it. I think it would be a tremendous benefit to south Abaco, just the employment and economic development in the area and at Sandy Point. Having another economic engine for Abaco so that everything isn't concentrated in Marsh Harbour and Treasure Cay, and more development in the north and south, is always welcome."
Mr Hutton added that "spreading the economic footprint" of Abaco, which is centred on the hub of Marsh Harbour and flows out from there, would benefit the island in terms of better distributing jobs and economic activity.
A four-page booklet produced by Tyrsoz Family Holdings Ltd, which has been obtained by Tribune Business, pledges to create 600 full-time jobs and inject $2bn into the area's struggling economy during its first 10 years in operation.
It details plans to construct multiple hotels, residential homes, a 136-slip marina, golf course, water park, nature preserve and other amenities spread across almost 1,100 acres that is split into two separate land parcels.
The project's two potential real estate holdings include the 620-acre Lantern Head parcel, which according to renderings seen by Tribune Business appears to be especially close to the National Forest. The other 467-acre tract, called "South-West Point", lies further south on Abaco's south-western tip.
Much of Tyrsoz Family Holdings' booklet was devoted to reassuring Bahamians of the company's environmental sensitivities. It is promising to create "a world-class, environmentally-sustainable luxury island retreat with local appeal via the participating community while, importantly, maintaining South Abaco's natural charm".
"Tyrsoz Family Holdings Ltd's financial advisor and real estate developer, Ra'anan 'Ronnie' Ben-Zur, is proposing a low-density, ultra-luxury hotel, residential and marina development for the secluded undeveloped coastal region of South Abaco, Bahamas," the booklet added.
"Based on sound economical footing, yet designed with great care and responsibility to the environment and original nature of the area, it is intended to provide significant ongoing and expanding employment opportunities for the community and important infrastructure improvements for the benefit of residents and visitors alike."
Yet Tribune Business understands that concerns are indeed building among environmental activists due to both the size and location of the proposed development, which is in close proximity to the 20,500-acre Abaco National Forest and the prime breeding ground for the endangered Abaco parrot.
"Everyone is absolutely concerned about the environmental impact from this," Mr Hutton told Tribune Business. "At the same time we have to be able to leave it up to people that are more educated and informed, and whose job it is to ensure the integrity of the environment here.
"Everything looks good on paper, but we're waiting for the proper hoops to be jumped through in the Environmental Impact Assessment and Environmental Management Plan. If those pan out I'm all for it. It definitely will be a significant impact for south Abaco without a doubt."
The Tyrsoz Family Holdings, which was mentioned by the Prime Minister in a recent national address, is at the very early stages of going through the various environmental, planning and investment approvals processes, including negotiation of a Heads of Agreement with the Government.