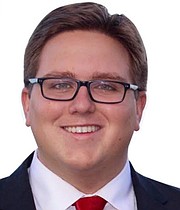 By NEIL HARTNELL
Tribune Business Editor
nhartnell@tribunemedia.net
South Abaco's MP has acknowledged that "huge environmental sensitivities" are associated with the proposed $580m mixed-use resort project proposed for his constituency.
James Albury told Tribune Business that marrying economic and environmental concerns was always "a balancing act" for the Government and its regulatory agencies, given that the Tyrsoz Family Holdings development could potentially be "a big stimulus for communities in the south".
He added, though, that The Bahamas had to be careful "not to fundamentally change the nature and culture" of its islands through major investment projects as this threatened to disrupt the very qualities that attracted visitors and capital to this nation in the first place.
Speaking after eight Bahamian and international environmental groups issued a letter to the Prime Minister and other Cabinet ministers to voice their "strong opposition" to the Tyrsoz Family Holdings project, and urge that it not be approved, Mr Albury said the development was still "in the embryonic stages" of going through the Government's various approval processes.
"I would say the environmental sensitivities are huge there," he told Tribune Business, "and moving forward I plan to work very closely with the environmental groups to make sure these concerns can be mitigated. That's my hope. It's very much a balancing act.
"We always, in our nation and in my role in Abaco in particular, want the employment and upward mobility it [the project] can provide for people, but we have to be careful not to ruin what made it beautiful in the first place or fundamentally change the nature and culture of the island.
"That's where a lot of the concern comes in. We don't want to have a big project that has a negative effect on the parrot population and fisheries."
Mr Albury conceded that the Lantern Head site, one of two land parcels upon which Tyrsoz Family Holdings plans to construct its development, was "very near to the Abaco National Park" and the breeding and nesting grounds for the Abaco parrot.
"Part of their proposal is to do a land swap with the Government to return some of the land they have under contract up against the national park and exchange that for other parcels along the coast," the MP added. "They will gift that to The Bahamas National Trust, which will become incorporated into the national park. That's one of their offers."
A four-page booklet produced by Tyrsoz Family Holdings Ltd, which has been obtained by Tribune Business, pledges to create 600 full-time jobs and inject $2bn into the area's struggling economy during its first 10 years in operation.
It details plans to construct multiple hotels, residential homes, a 136-slip marina, golf course, water park, nature preserve and other amenities spread across almost 1,100 acres that is split into two separate land parcels.
The project's two potential real estate holdings include the 620-acre Lantern Head parcel, which according to renderings seen by Tribune Business appears to be especially close to the National Forest. The other 467-acre tract, called "South-West Point", lies further south on Abaco's south-western tip.
Much of Tyrsoz Family Holdings' booklet was devoted to reassuring Bahamians of the company's environmental sensitivities. It is promising to create "a world-class, environmentally-sustainable luxury island retreat with local appeal via the participating community while, importantly, maintaining South Abaco's natural charm".
"Tyrsoz Family Holdings Ltd's financial advisor and real estate developer, Ra'anan 'Ronnie' Ben-Zur, is proposing a low-density, ultra-luxury hotel, residential and marina development for the secluded undeveloped coastal region of South Abaco, Bahamas," the booklet added.
"Based on sound economical footing, yet designed with great care and responsibility to the environment and original nature of the area, it is intended to provide significant ongoing and expanding employment opportunities for the community and important infrastructure improvements for the benefit of residents and visitors alike."
Mr Albury said he had already met Ronnie Ben-Zur, chief executive of French Quarter Holdings and the project's lead developer, and planned to "reach out to him" for another meeting in the next few weeks once his meetings with the local community and other stakeholders were completed.
Alive to the potential economic benefits, the MP added: "Abaco is performing very well economically. We have a number of persons in the southern communities who commute to work in the central area and on the cays, Winding Bay.
"I think we'd see a lot of support among persons happy to find quality employment more closer to home. I believe that if done correctly it could be a big stimulus for communities in the south and draw people back to this area.
"We have persons very excited about the economic prospects of it, and also have to make sure the environmental concerns and impact of such a project, if they continue with their current plans and size and scale they are proposing, are addressed. They have the capital to sustain the goal they're going for."