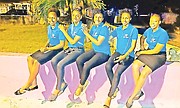 By JEFFARAH GIBSON
Tribune Features Writer
jgibson@tribunemedia.net
THE Generation Esthers organisation is seeking to raise $100,000 to fund the future of young girls as part of its mentorship programme.
To meet this goal the non-profit, which is based on the island of Eleuthera, is hosting a scholarship gala ball on May 11 at the Romora Bay Club & Resort beginning at 7pm.
The general public is invited to take part in the festivities as funds raised will go towards assisting the educational pursuits of young women
"We are trying to raise $100,000 this year, that will be split. We have six girls who are graduating this year and they are going to the University of the Bahamas. Some of them will probably get scholarships otherwise, but we are looking for book scholarships, travel expenses and other things that will assist them with their education," said Richette Percentie, founder of the non-profit.
Generation Esthers was started by Richette along with her sister several years ago as a way to help young girls discover and develop their talents while becoming productive citizens.
"It was birthed out of the need for some activity for the young ladies of the community. Previously, I had been working along with some girls out of the CC Sweeting Junior High School," she said.
However, Richette believed that young girls from Harbour Island, Eleuthera, were also in need of a programme that could help them unlock their unique gifts.
"We started in my mother's house in 2015 and it was a mentorship programme for a 12-week period. Then the second year we started to make it public and had 12 girls join the programme. It is geared towards girls between the ages of 10 and 15," she said.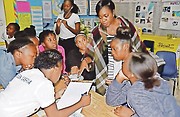 The programme, Richette said, has been making a great impact on the lives of young girls. It is for this reason the organisation needs the support of the general public to continue its efforts.
"The ball is the grand finale of the year. It is our biggest fundraiser yet. And we are hosting this event because we want to continue helping the young girls who are showing so much promise.
"In keeping with our objective, to try and develop the gifts...so though they came to us for the period of time, there is still more development needed. We try to help them with going off to school and provide funding for then to get further development. The girls get hands-on experience and we help them see what they are good at," she said.
Like the Whitney Houston songs so famously says, children are our future, and Richette and her organisation are determined to make that future a bright one by doing all they can to fully equip young women for their road ahead.
"Kids are not being celebrated enough. This is the reason why we started the scholarship for Generation Esthers. We believe every child has a unique gift and if it is developed it can produce something great," she said.
"All some of those kids need is a push, and we want to provide that push. So that is why our aim is to identify the gift and focus on developing that so by the time they reach the 12th grade they know exactly what they want to do."
Ticket prices for the event are $75. Donations are also accepted.
For more information, contact 242-427-1070 or generationesthers@gmail.com.