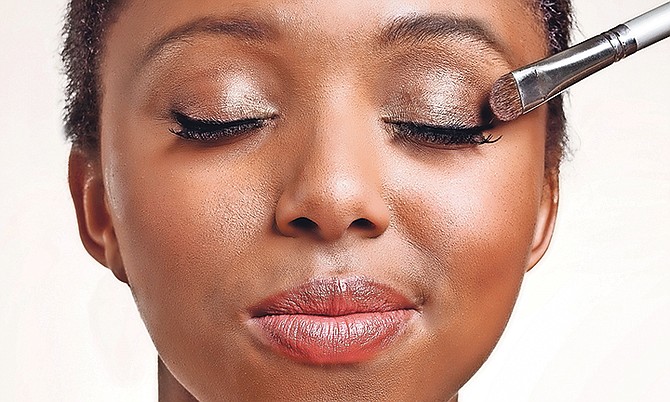 By ALESHA CADET
Tribune Features Reporter
acadet@tribunemedia.net
The beauty industry is bigger than it has ever been. Thanks to influencers on Instagram and beauty gurus on YouTube, more young women - and men - are trying make-up tricks and tips in an attempt to apply makeup at an almost professional level. While a lot can be learned from watching tutorial videos, nothing beats live demonstrations with an expert on-hand to answer any questions you may have and to provide specialised advice.
This is the thinking behind the Faces 2 Go Places' makeup classes. The brand will be hosting its second event, called "Adorning You - Part Two", for teens between the ages of 14 and 19. Participants will learn to how to arch and fill in eyebrows, apply foundation and powder, blend eyeshadows, and more to. The event will take place at the Judea Baptist Church, Tonique Williams-Darling Highway, this coming Saturday from 10am to 1pm.
Shaquille Sands, owner of Faces 2 Go Places, a freelance professional makeup artist, said she enjoys reassuring her clients of their beauty and often quotes Psalm 139:14 to them; the scripture speaks of being fearfully and wonderfully made.
"This has influenced my belief that personal grooming and adornment reflects one's confidence and attitude. Most women feel better when they are well put together and polished, but even more so, when they know how to do these things for themselves. Several clients that I service would mention that they'd like to know how to apply basic makeup correctly to ensure they look presentable and polished without having to hire a makeup artist weekly. 'Adorning You' was birthed from a personal desire to equip young women with the knowledge required. I truly wanted to create a learning environment to empower women from all walks of life," said Shaquille.
Shaquille told Tribune Woman she started Faces 2 Go Places while still in college. Since that time she has done makeup for graduations, proms, weddings, birthday celebrations, anniversaries, christenings and other religious ceremonies. She is also a trained English Language and Literature teacher.
"I have really been blessed by God and I plan to use all of my gifts to His honour and glory. Faces 2 Go Places makeup artistry is my second profession, but it provides equal fulfilment. What I enjoy about working in the artisan field is similar to that which I enjoy about teaching, which is building relationships and helping people to discover their inner beauty by using my skills and talents. A lot of the work that I do in both roles is to support others," she said.
Speaking about some of the techniques that will be taught during the upcoming class, Shaquille said the participants will learn how to do daytime looks and transform them into nighttime makeup. Additionally, tips and tricks for various looks appropriate for graduations, interviews and social events will be covered.
"We will also be covering how to adorn ourselves from the inside out because beauty is not only skin deep and we want all participants to walk away knowing that they are enough and wonderfully made without makeup. In addition, there will be a bonus segment on how best to adorn oneself with appropriate undergarments suited for various body types to achieve a neat and professional look," said Shaquille.
Following the first workshop held last year at the Purpose Church, Shaquille said she felt humbled when she observed the participants after the event; many of them carried themselves with grace and style, and sent her photos of their outfits or makeup looks, expressing gratitude for the class or saying "Look at my brows, they're on point."
"My mother encouraged me to continue hosting the event because she said she was proud of the work that I was doing, and that it was timely. The effect that I wish for 'Adorning You' to have on the lives of all the ladies who attend is a ripple effect. I would like to know that they are influencing other young women to present themselves fashionably, but elegantly, and that they, too, become teachers of self-grooming and makeup application to their friends and relatives who are lacking that guidance and assistance in their inner circles," said Shaquille.