By JEFFARAH GIBSON
Tribune Features Writer
jgibson@tribunemedia.net
It's not every day you get to learn the tricks of the trade first-hand from a queen. So when the opportunity arises, you seize it. And that is exactly what participants in the boot camp of former Miss Bahamas World Chantal O'Brian event did.
Since the beginning of summer, there have been numerous programmes and initiatives staged to provide the camp participants with special skills they can carry with them in their future pursuits.
"The Academy: Become Queen Boot Camp" melded both pageantry and modelling during several days of intensive learning. It served as a training ground for aspiring beauty queens.
The young girls who participated were groomed and polished in regards to their posture, poise and on how they carry themselves overall. As a result, the girls said they became more self-aware, and saw an improvement in their confidence and self-esteem.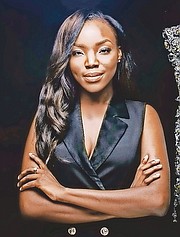 Chantal, pictured, who has been balancing a 9-5 job while working towards becoming an entrepreneur, said she has always been passionate about empowering her fellow women. This was one of driving forces behind hosting the boot camp event.
And all of her good intentions appear to have paid off.
"When I first joined this programme I never knew my life would be transformed," said one of the camp's participants in a personal note to Chantal.
"From the very first day I immediately broke out my shell. You taught me that I am, in fact, enough. I am strong and that I will always overcome. From this programme I have gained confidence and a better relationship with my inner self. Not only that, I have I gained a family filled with amazing, talented girls."
Participants were exposed to runway and public speaking lessons, as well as sessions on confidence-building, social etiquette, personality development, branding and image styling.
In the lead-up to the boot camp, Chantel said she had feeling been on edge as she was also working on her pageant training studio at the same time.
"I've been, for the last couple of months, super on the edge, scared, anxious and every other negative word you can think of in preparing for this boot camp while simultaneously working on my studio. I found days where I was discouraged and just didn't believe in myself. Our fall can be tough; when we think things should look a certain way and if they don't, then we've failed. All I know is, God is so good to me. He's teaching me things; teaching me patience, persistence, to embrace the journey, even when it doesn't look the way I want it to," she said.
Being able to successfully pull off the boot camp and positively impact the participants, she added, was a heart-warming and overwhelming experience.
"Thank you to all of my close friends who encouraged me and contributed to making this a success. A great thank you to the speakers for this week and a special thank you to the participants of all sessions," she said.
Chantel said this year's boot camp went by faster than she expected and she is already looking forward to hosting the event again next year.
"The week went by way too fast. We are happy to have spent the week working on different aspects. Each session brought a new lesson and we are so glad that our participants benefited greatly from it. We spent the week building relationships, confidence exercises, runway walking, posing and more," she said.
Guest speakers included: Gabriela Collie (Nosey Bad), who spoke on effective public speaking; Navado Dawkins (the Navashion Brand), who focused on branding and marketing for both pageant girls and models, and Donovan McIntosh (One of a Kind Photography), who explained how to nail photoshoots and more.
To close out the sessions, Miss Bahamas Galaxy 2018 Raquel Clarke, along with national director Andrea Knott, assistant director Jessica Knott and Miss Teen Bahamas Galaxy Lathesia Clarke, addressed the girls about the importance of being true to oneself, their platforms and what it takes be a well-rounded queen.