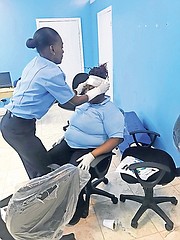 By JEFFARAH GIBSON
Tribune Features Writer
jgibson@tribunemedia.net
To ensure the safety and well-being of students ahead of the new school year, the Ministry of Education's Security Division for the the first held special CPR/First Aid classes for officers stationed at schools throughout the country.
The classes were specifically held for the Security Division and will be hosted at least twice a year commencing in 2020. During the first session, all school security officers were certified after the classes.
First aid is the immediate assistance given to any person suffering a sudden illness or injury, with care provided to preserve life, prevent the condition from worsening, and or promote recovery.
During the classes, participants were taught how to identity an emergency, how to respond in an emergency, and the proper precautions to take against disease transmission. They were also taught how CPR procedures work and what the correct recovery position is.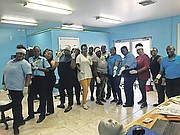 Additionally, participants were taught how to respond to choking, first aid care for heart attacks and chest pain, first aid care for bleeding and wound care, and more.
Incidents that require first aid happen almost daily at schools, and the Ministry of Education wanted to ensure that first responders are equipped to provide relevant care, said Ministry staff member Denise Russell.
"Security officers within the Ministry of Education are a part of the first responders in every school when incidents happen in regards to students and or faculty staff members. It's imperative they are equipped with the necessary life-saving skills until the relative medical authority arrives," she told Tribune Health.
Having the security officers certified in first aid/CPR is the Ministry's way of being proactive.
"It is important for the security officers to become equipped because incidents take place on the campuses every day where the security personnel is needed. We do not wish for there to be an incident where someone may need to be attended to in this manner and due to lack of knowledge a life is lost. The key is to now move from a place of being reactive to become proactive, one officer at a time," she said.
There were a total of 53 officers who participated in the first aid/CPR classes. They said they all found the exercise extremely beneficial.
"We intend to ensure that all of our officers received the same training. This is training that can also be used in the their personal lives," said Ms Russell.
She could not confirm whether teachers on school campuses are also trained in this manner, however, she believes they along with other staff members do have some knowledge of first aid.