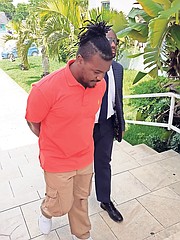 By NICO SCAVELLA
Tribune Staff Reporter
nscavella@tribunemedia.net
A 41-year-old former national athlete used six aliases to defraud a local movie theatre complex of over $3,000 worth of credit over the last seven months, police have alleged.
Allen Mortimer - who allegedly used the names Sean Miller, Tracy Mortimer, Antonio Saunders, Tracy Miller, Gordia Ewing and Kayla Allen - was charged yesterday with swindling Fusion Superplex of $3,611.12 between January and July.
Mortimer, a former triple-jumper, is also accused of attempting to swindle Western Air Limited of $993.24 worth of credit between July 12 and 21.
He also allegedly swindled the airline of $225.08 worth of credit on July 19. He is also accused of defrauding Latario Collie of $150 cash on July 25.
Police said those charges are in connection with a credit card scam where airline tickets were being purchased with stolen cards.
Mortimer denied all of the charges during his arraignment before Senior Magistrate Derence Rolle-Davis. As a result, his matters involving Fusion Superplex were adjourned to October 15 and 16 for trial, while his matter involving Western Air was adjourned to November 25 and 26 for trial.
Bail was denied and he was ordered to be remanded into custody in the interim. He has a right to apply to the Supreme Court for bail.
Mortimer has represented The Bahamas at various international sporting events and was a member of The Bahamas national team.
He finished sixth in the triple jump at the 1996 World Junior Championships in Sydney, Australia, and in 2000 he won the NACAC Under-25 Championships in Monterrey, Mexico.