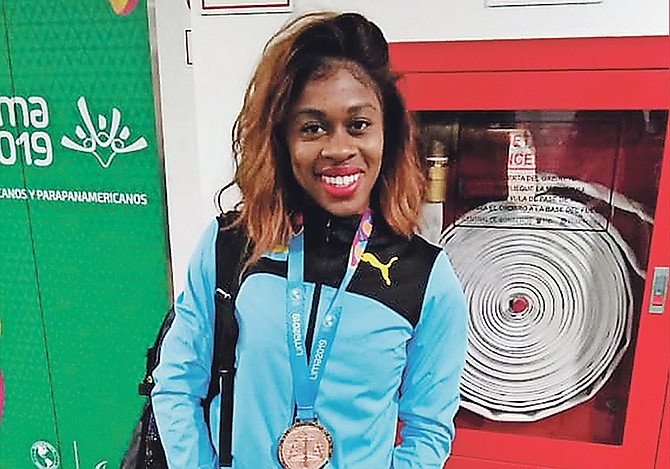 By BRENT STUBBS
Senior Sports Reporter
bstubbs@tribunemedia.net
Grand Bahamian native Tynia Gaither was quite "shocked" but yet "contented" leaving the XVIII Pan American Games in Lima, Peru, with the Bahamas' only medal in the women's 200 metres.
On Friday at the Athletics Stadium Parque Kennedy, Gaither clocked 22.76 seconds to pick up the bronze behind Jamaica's Shelly-Ann Fraser-Pryce, who broke American Evelyn Ashford's 40-year-old games' record of 22.45 with her personal best of 22.43.
"It was definitely a blessing," said Gaither, who also earned her first individual medal in a major international meet as a senior athlete.
"I am very excited that I was able to get our first medal," she said.
In winning her medal, Gaither became the first to get on the podium since the era of the "Golden Girls." After the race, the 26-year-old Gaither told The Tribune that she was "surprised" by her feat.
"It's definitely a blessing. It gives me a different perspective on my ups and my downs," she reflected. "Lately, I've been stressing the times when I've been down, but this reassures me that not because things don't look bright all the time that it won't get brighter. That's what I got out of this meet."
Only three Bahamian women - all from the Golden Girls era - have done what Gaither achieved.
Chandra Sturrup was the last female sprinter to medal at the games with a bronze in the 100m in 2007 in Rio de Janeiro, Brazil.
Prior to that in 1999 in Winnipeg, Canada, Sturrup clinched the first gold in the 100m and Debbie Ferguson-McKenzie followed by snatching the gold in the 200m.
And IAAF Councilwoman Pauline Davis-Thompson earned the first medal for the Bahamas sprinters when she secured the bronze in the 100 and 200m in Indianapolis, Indiana, in 1987.
For Gaither, who was coming off a second place finish in the women's 100m at the Bahamas Association of Athletic Associations National Open Track and Field Championships in Grand Bahama two weeks ago, she was quite contented in Lima and that made the difference.
"I think what helped me a lot was the fact that they (Bahamas Olympic Committee) brought us in early. I think that helped me to shake a lot of the rust off," she pointed out.
"I am definitely grateful for them for doing that because I got in some practice sessions, got a feel for Peru and the altitude. So I was able to turn that around very well and get the bronze. So I was very pleased."
In retrospective of the race, Gaither remembers watching Fraser-Pryce just ahead of her in lane six.
But once she came off the curve in lane five, she noticed that Fraser-Pryce was gone.
While the vision was on Fraser-Pryce, Gaither didn't measure the distance between her and Brazil's Vitoria Rosa in lane four as she reeled in the Bahamian for the silver in 22.62 for a personal best as well.
"Shelly-Ann is one of my idols, so every time I get to line up with her I'm on cloud nine," Gaither said. "She pushes me to a different level. I raced against her a few times and I can honestly say, I had some of my best races. So just to be able to be in that calibre with her was great. I wasn't really nervous. I felt it was just a blessing to be there."
Once the race started, Gaither said her aim was just to go with Fraser-Pryce and she had the belief in herself to get through the home stretch in a position to compete for a medal.
In the process, she had enough real estate to beat out Strachan who, out of lane eight, had to settle for fifth place in 22.97 as she made her comeback a little too late.
Strachan, the Bahamian double national sprint champion, followed Canadian Crystal Emmanuel, the fourth place finisher, in a season's best of 22.89.
Later in the day with the team spirit on the line in the women's 4 x 100m relay, Gaither waited patiently on the anchor leg, but she never got the baton as the exchange between Grand Bahamian Brianna Bethel and hurdler Pedrya Seymour didn't connect.
The Bahamas, with another hurdler Devynne Charlton running the opening leg, didn't complete the race.
"I wouldn't say I was really disappointed because we could have been more successful if we had put more time into our hand-offs in practice," she noted.
"Everything about the relay was last minute so we couldn't expect too much when we got out there with all of the preparations not really in place."
With the games over and done with, Gaither now switches her attention to the International Amateur Athletic Federation's World Championships in Doha, Qatar, September 28 to October 6.
"I will take about two and-a-half weeks off because I'm going to head to Europe and compete in about three meets before I shut it down for Worlds," she projected.
As a medallist of the Pan Am Games, which is assigned for countries in the Americas region, including the United States and Canada, Gaither said she's even more inspired to compete at the World Championships, the biggest stage in the sport outside of the Olympic Games.
"I feel great. I'm really in a kind of state of shock because where my body is now, it's not where it was two weeks ago," she summed up. "I'm feeling better, surprisingly, so I'm really happy with that.
"It will allow me to continue training where I'm at so that I can peak at the Worlds. I hope to be at my peak, once I can stay healthy over the next few weeks."
And as she leaves Lima, Gaither will take her fondest memories with her. "The village is great. The living arrangements are really nice, so I'm enjoying it, but I'm also ready to get back home and get back to work," she said about her expectations for what should be a great Worlds.
Another medal would look good on her résumé, but an appearance in the final would make the long trek to the other side of the world just as gratifying.
When you add her medal, the Bahamas now has nine gold, 14 silver and 13 bronze medals since competing in the second edition of the games in 1955 in Mexico City. The first games were held in Buenos Aires, Argentina, in 1951, but the Bahamas didn't participate.