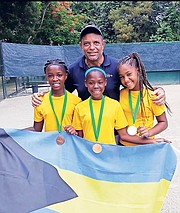 THE Bahamas Lawn Tennis Association's three-member girls' team of BreAnn Ferguson, Saphirre Ferguson and Jalisa Clarke captured third place over the weekend at the ITF/Cotecc Under-12 Team Competition Sub Region 3 in the Dominican Republic.
The team was coached by Marion Bain.
Puerto Rico took the top spot, while Jamaica claimed second place.
"Our girls participated amongst some of the most talented juniors in this region and they came out shining brightly," coach Bain said. "Their play was described as dominant and consistent."
The boys' team of Jackson Mactaggart, Khai Rees and Jerald Carroll didn't fear as well as the girls. But the BLTA also congratulated them on a job well done.
"I was extremely proud of the way our boys played this week, they played with intensity and grit and didn't back down," said coach Jared Turnquest.
Both teams played some great tennis and also competed at a high level, according to the BLTA. It said the Bahamas performance in team competition was indeed commendable and they know that their players will only continue to improve. "The future of tennis is very bright," the BLTA added.