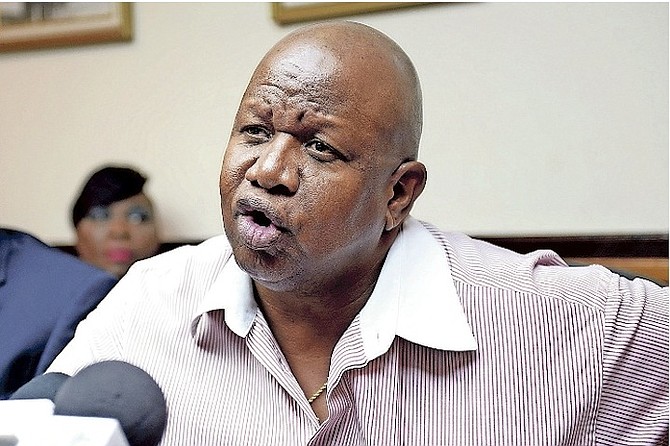 By NEIL HARTNELL
Tribune Business Editor
nhartnell@tribunemedia.net
Bahamas Power & Light's (BPL) decision to direct all its financing towards the $95m Wartsila acquisition left it "unable to meet maintenance goals", a union leader charged yesterday.
Paul Maynard, the Bahamas Electrical Workers Union's (BEWU) president, told Tribune Business that the state-owned utility's move to focus its entire capital budget on the purchase of 132 megawatts (MW) in new generation capacity meant it was deprived of funding for the upkeep of its existing plant.
Arguing that this was directly responsible for the multiple engine failures behind BPL's daily New Providence load shedding, the outspoken union chief said the energy monopoly's management and board had under-estimated the generation capacity required for summer.
Whitney Heastie, BPL's chief executive, admitted on Sunday that the utility had given itself a wafer-thin margin to meet New Providence's 250 MW peak summer demand with only 270-280 MW of generation available.
While he argued that the extent of the failure at the Blue Hills power plant, which resulted in three generation units being lost simultaneously, could not have been predicted, Mr Heastie also admitted that some of BPL's aged infrastructure is 60 years-old - a factor that suggested regular maintenance/repairs would be required.
Mr Maynard, meanwhile, suggested that even the proposed 220 MW multi-fuel power plant to be built, operated and owned by Shell North America will be insufficient to meet New Providence's energy demand given the anticipated growth in the economy and population.
He suggested the plant should have a 300 MW capacity to ensure the island's needs are "taken care of for the next ten to 15 years", adding that BPL would have to keep at least 60 MW - or around half - the Aggreko rental generation units on-island next summer to avoid a repeat of this year's catastrophe.
The BEWU president then warned against "giving Bahamians false hope". While the new Wartsila engines may be installed by December 15, Mr Maynard expressed scepticism as to whether they would be fully operational and connected to the BPL grid by that date.
And he added that Mr Heastie's confirmation that BPL will not compensate customers for the frequent power outages, which often last for three to four hours at a time, would not be well-received by the majority of frustrated Bahamian households and businesses.
He suggested compensating companies, especially large hotels and commercial customers requested to run their generators to alleviate the load on BPL, by granting then border tax breaks - Excise Tax, Stamp Duty and VAT relief - on diesel fuel imported for these assets.
"It's because they took the $100m out of the company's budget to buy the engines from Wartsila that we are unable to meet our target goals to get everything ready," Mr Maynard blasted to Tribune Business.
"They took a lot of money out of the company's budget, and that's why we were unable to meet maintenance goals as we didn't have any money. They should have known that would happen. Murphy's law is always a curse."
The union chief alleged that by placing all its financial 'eggs in one basket' BPL had left itself with insufficient funding to maintain its existing, aged generation fleet that has constantly suffered from poor upkeep during a summer when there was virtually no margin for break down.
He added that BPL should have passed its summer generation problems over to Shell, whose financial resources "can move mountains", to deal with rather than attempt to tackle them itself knowing how cast-strapped it is.
The $95m Wartsila deal is effectively the same as the proposal that caused one of the rifts on the Darnell Osborne-led Board. Mr Heastie and Patrick Rollins, BPL's executive director, had sought to use a portion of the $100m short-term financing facility raised last year to purchase new generation engines to fill the gap between now and the Shell power plant's start.
That was blocked by Mrs Osborne and the then-Board's finance committee, which argued this was contrary to how BPL had told the lenders their money would be used. They had been informed that the funds would go towards the [staff] VSEP settlement, Advanced Metering Infrastructure (AMI) initiative, and many capital projects that had been starved of financing.
Mr Maynard, meanwhile, argued that the Wartsila engines "are not the saviour" they are being made out to be because BPL is effectively adding new generation capacity that is 12 MW more than what is currently rented from Aggreko.
With New Providence's peak demand some 118 MW higher than the Wartsila generation capacity, the union leader added: "We can't send those rental units back. They'll have to keep at least 60 here. Otherwise next summer we will be back in this quagmire again."
Shell's new power plant, which will incorporate the Wartsila units, will add another 90 MW of generation, but Mr Maynard said at least another 60 MW in generation capacity was needed "on top" of that.
"Ultimately it would be better for New Providence to have a 300 MW plant looking into the future," he told Tribune Business. "There's no point doing this and not getting what we want for the next 10 years.
"The Government has to decide whether it is going to be serious about this or not. We need a 300 MW plant for New Providence. We have 132 MW coming now, and need to figure out how to get another 170 MW. If they're serious we can have our needs taken care of for the next 10-15 years.
"We need to retire these old units, start afresh and start a new plant. Then we will not have to do anything for the next 10 to 15 years, can pay the loans and run a proper company."
BPL is hoping that Wartsila's new engines can bridge the gap to the new Shell power plant by providing New Providence residents with reliable, consistent and lower cost energy in what is a multi-phase turnaround initiative for the state-owned utility.
The next stage revolves around construction of the new power plant and its associated liquefied natural gas (LNG) infrastructure, both of which are due to be completed by end-2021, just in time for the next general election.
Mr Maynard, though, expressed scepticism that the new Wartsila engines will be operational by September, adding: "Seeing is believing. It's not going to happen. Stop giving people false hope."
He said BPL should have been more creative in trying to alleviate the suffering, cost and frustration imposed by its constant load shedding, and warned: "Playing the blame game did not go over well with the public.
"Facebook ate him [Mr Heastie] alive. People want to hear what you're going to do to alleviate the problem. It's not good enough not to compensate people."
Pointing out that BPL is paying between $2.50 to $3 per gallon for its diesel fuel, Mr Maynard suggested that the Government grant businesses with generators tax breaks on their fuel so they could purchase it at the same cost. Inquiries with gas stations established that their current per gallon diesel price is around $4.32.
"It's extenuating circumstances, and what you could do is extend this price to all the business people as it may be significant savings for them," Mr Maynard said. "Not to mention that they have to do maintenance because they're running them all the time. It's costing them, and there's a lot of things they can do."