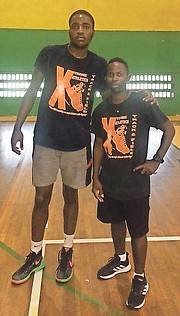 By BRENT STUBBS
Senior Sports Reporter
bstubbs@tribunemedia.net
AN injury prevented Kyle Alcine from achieving his ultimate success with the Cloud County men's track and field team. But the high jumper is hoping to soar when he transfers to compete for the Kansas State University Wildcats this year.
In his transition from one school to the next, 20-year-old Alcine said he had a good summer.
Coming off a knee injury, Alcine made the Bahamas team that participated in the North American, Central American and Caribbean (NACAC) Under-18 and Under-23 Championships in Querétaro, Mexico, last month where he placed eighth in his speciality with 2.10m, or 6-feet, 10 3/4-inches, the same height as compatriot Jyles Etienne, who was seventh.
"The season has been okay. It hasn't been good and it hasn't been bad. It was a good season in between," Alcine said. "I just have to work on getting my quads stronger. Once my quads get stronger, I think everyone is in problems."
With a season's best of just 2.15m (7-0 1/2), Alcine said K-State has already indicated to him that they expect him to fit right into their regimen and legacy of producing quality high jumpers.
"They are looking forward to me coming right in and jumping," Alcine said. "They had the best high jumper in the nation in college last year, so it's going to be tough. They are looking for me to come in and bang with the guys and jump with them and have fun as well."
Alcine, who helped Cloud Community College to win the National Junior College Athletic Association's national championship crown, is expected to be joined by St Augustine's College graduate Oscar Smith, who will be taking his talent as a 110 metre hurdler to K-State this year.
"It's going to be a good season at K-State for us," Alcine already projected. "We hope to make our presence felt and we want to open the door for other Bahamians to follow. Oscar and I just have to make a good impression when we go."
Although he was appreciative of the opportunity to compete for Cloud Community College, Alcine said he was advised by his Extreme Athletics Club coach Nekeno Demeritte to take a year off and get properly prepared for college.
He didn't, now he has to make the most of his future, which includes venturing into the senior ranks. He said the two years he spent at Cloud Community College will certainly inspire him for K-State and his future.
"Moving into the senior ranks, I hope to make my first Olympic team next year," Alcine said. "That is the goal right now. That is what I am training toward. That's my ultimate goal, to go to the Olympics in 2020."
Home for the summer, Alcine said he was delighted to come back and assist Demeritte with his Extreme Athletic Basketball Camp currently underway at the DW Davis Gymnasium.
"I will come year after year and help him. I don't care how big I get," Alcine said. "He's just been a great person. He's just extraordinary. He's a super guy. He loves the kids. He loves what I'm doing and so I'm just glad to be able to share in this camp." Demeritte said Alcine has been consistent, but once he can overcome his injuries, the sky is the limit for him.
"I think with him going to K-State, we should see some better jumps from him," Demeritte said. "I expect for him to go at least 2.25m (7-4 1/2) or 2.28m (7-5 3/4) because he has the potential in him."
That was one of the things that has impressed Demeritte about Alcine's ability from watching his work ethic over the years when he attended Government High School before he left for college.
"One thing I can say about Kyle is that he has always been a focused athlete. He was one of the focused athletes that I've had," Demeritte said. "He's had the drive and ability to be better than what he is. He just has to get into the right environment to put it all together."