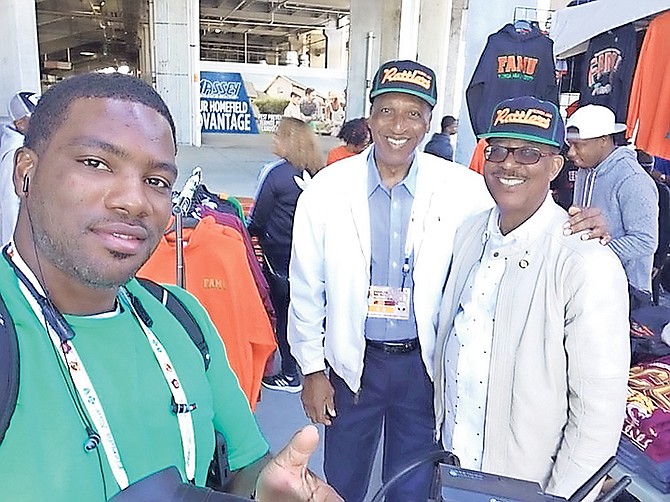 By BRENT STUBBS
Senior Sports Reporter
bstubbs@tribunemedia.net
THE Best of Sports World, a television talk show that highlights the performances of local and international Bahamian athletes, is now a decade old and getting stronger, according to director Carlos Mackey.
When Mackey started the show in December 2008, he was answering a call by Dr Cleveland Eneas to appear on a programme with him and Jones Communications CEO Wendall Jones to talk about their college experience.
"After the show, we talked and I did four shows," Mackey said. "I did a show with Michael Wilson, a football player, Joel Stubbs, the big bodybuilder, Tureano Johnson, a young professional boxer and Fred 'Papa' Smith, legendary baseball player.
"I then saw my good friend, (Anthony) Ace Newbold and he told me that they were looking for some programmes to put on ZNS. I went over there and the rest was history. I've been there ever since."
Famed for bringing the Florida International University Marching Band to the Bahamas, a year after they visited Paris, France, Mackey said he gets tinkle pink whenever people stop him and encourage him to continue to produce the type of shows that he has on the airwaves.
"I had Ed Armbrister on my last show talking about that controversial play with the Cincinnati Reds that helped him to win his second Major League title," Mackey said. "They called him all kinds of names in Boston because they won the game.
"I don't think Bahamians appreciate the talent that we have in this country. That is why my programme is successful and why I enjoy bringing the shows to the public. We have so many gifted people here and once I can find them, I will expose them."
The show airs under its new times every Tuesday at 9pm, Wednesday at 10pm and Saturday at 5:30pm. "God had a plan for me," said Mackey, who remembers how he jumped out of bed one morning and told God that he will do whatever it is he wants him to do. "I was working in the United States at the time. I left my job and when I told my collegiate that I was coming here, he thought I was just going on a vacation. He was wondering why I would leave the greatest country in the world to come here to start a television show."
Mackey, a former baseball player, said he will continue to tell the story and, hopefully, he can encourage more people to come to the Bahamas and view the talent that is available here.