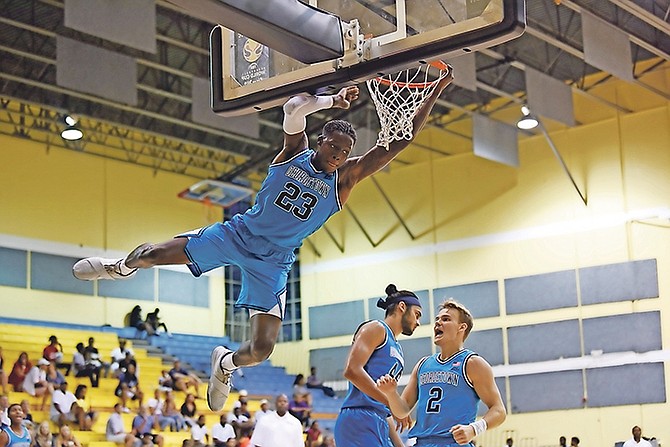 By BRENT STUBBS
Senior Sports Reporter
bstubbs@tribunemedia.net
FORMER NBA star Patrick Ewing and his Georgetown Hoyas opened their appearance in the Bahamas Basketball Federation's Summer of Thunder basketball tournament with a 103-77 rout of the depleted Commonwealth Bank Giants yesterday at the Kendal Isaacs Gymnasium.
"We were really short-handed and fatigued," said Giants' guard Jacob Jackson, who scored 12 points in the loss. "We just had back-to-back and we fought real hard. But most of our players couldn't make it out tonight because of work and family situations. But hats off to the guys who put up a fight and the new guys who came in to help us out."
Not only were the Giants short-handed, but they were also outsized by the Hoyas, who at intervals in the game used line-ups with at least three forwards all taller than the Giants' entire roster.
Ewing, the Jamaican born Hall of Fame centre from the New York Knicks in the National Basketball Association turned coach, said the Giants' squad his Hoyas faced obviously were not an indication of what they can expect for the rest of their participation in the tournament. "The next two games will be a much better game," he predicted. "My guys are here trying to enjoy themselves. It's a little bit of a business trip and we are also trying to have some team-bonding experience.
"It's always good to come back to the Bahamas. This is like my third home. I was born in Jamaica, grew up in America. But I'm always here on vacation, so it's great to be back."
Now in his third season as the Hoyas' head coach after spending 15 years as an NBA assistant following the completion of his legendary playing career, he said despite not playing a better Giants team, he felt his players held their own.
"We definitely have a lot of talent on this team. We can do a lot of different things," he pointed out. "Our goal is to play hard, play well and to share the ball and have fun."
They did all of that against Commonwealth Bank with six of their players scoring in double figures.
Their captain James Akinjo, a 6-foot freshman guard, led the attack with 16 points, three assists, two rebounds and a steal. Mac McClung, a 6-2 guard, scored 15 points with two rebounds and two assists.
Both sophomores Jahvon Blair and Jamorko Pickett (four rebounds and four assists) added 14 points, while Terrell Allen scored 11 points and Omer Yurtseven helped out with 10 points and nine rebounds.
Georgetown established their presence in the game early as they exploded for a 10-0 run before Michael Bain Jr scored on a reverse layup to put Commonwealth Bank on the scoreboard.
The Hoyas raced out to a 32-18 lead at the end of the first quarter. By the half, they were up 54-31 and extended it to 83-51 at the end of the third.
Mark St Fort led the Giants with 18 points and Jacob Jackson was the only other player in double figures with 12. Lathaniel Bastian had nine points with seven rebounds, Michael Bain Jr, despite playing through the game with an injury, had eight points, seven rebounds and four assists.
Livingstone Munnings also had eight points with five rebounds and two steals and Kevin Tidor added eight points with six rebounds. Jeffery Henfield and Cordero Seymour both chipped in with six points.
Bahamas Basketball Federation president Mario Bowleg encouraged the public to come out and watch some keen competition with teams like Georgetown, Texas Tech and Memphis, along with the Bahamas men's national basketball team.
"We want to invite the country to come out on Wednesday in the first game to watch the Bahamas men's team play Texas Tech," said Bowleg of the game that will begin at 5pm.
"We have our new head coach Chris DeMarco from the Golden State Warriors here and so we expect some high-notch competition from the teams this week," he said.
Among those in attendance watching the game was Philip 'Brave' Davis, the leader of the Progressive Liberal Party.
WEDNESDAY
3pm - IBA Elite vs Maryville University (Kendal Isaacs Gymnasium)
5pm - Bahamas National Team vs Texas Tech University (Kendal Isaacs Gymnasium)
5pm - University of Memphis vs Commonwealth Bank Giants (Baha Mar)
7pm - Georgetown University vs Raw Talent Elite (Kendal Isaacs Gym)