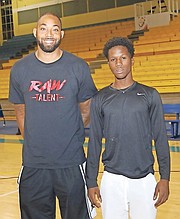 By BRENT STUBBS
Senior Sports Reporter
bstubbs@tribunemedia.net
A YEAR ago, Jaraun 'Kino' Burrows helped to pave the way for talented, young point guard Dominick 'Nardo' Bridgewater to ink a professional contract right out of high school.
This year, they hope to eventually play against each other as Burrows has moved on to a new club, while Bridgewater has been elevated to the FOS Provence Basketball Byers Club as a member of their Pro-A roster in the departure of Burrows.
The duo, home for a short summer break, left town yesterday for France where they are both excited about the upcoming season.
"I just signed a new contract to play for the Aix-Maurienne Savoie Basket," said Burrows, who will be starting at centre.
"They want me to come over right away so I have to get back now to prepare for the upcoming season."
Burrows, at 6-feet, 8-inches and 220 pounds, will be based in Geneva, Switzerland, but he's expected to see some action against Bridgewater and Travis Munnings, who is also playing in the French League.
"It's going to be awesome. It's going to be fun anytime one of us meet," Burrows said. "I played against Zane Knowles and Michael Carey in the past, so anytime we get together, we try to do our thing. We try to have fun."
Now with a new team, Burrows said it's going to be a new opportunity for him to excel.
"In this game, whenever you get hurt and you have to come back and prove yourself, even at my age, turning 34, I am still hungry," Burrows lamented. "I can't wait to get over there and to show them that I still belong in the top division."
Having to leave when things are just heating up in the Bahamas Basketball Federation's Summer of Thunder, Burrows said he would have liked to play against Patrick Ewing's Georgetown Hoyas or even the Texas Tech Red Raiders.
"I remember five years ago when we played against North Carolina," said Burrows, a member of the men's national basketball team. "I really like the big teams when they come. We feel like we can play at their level. I wish I could be here for that. But the new club and the coach told me that I need to get in right away to get some tests done early and to start preparing for the season. But I can't wait for next summer."
Burrows noted that it's good that the men's national team is going into a different direction with a new head coach in Chris DeMarco from the Golden State Warriors. He said he will be away to play at some point in the FIBA window in February.
"I was in practice with him, so I can guarantee you that we will play hard," Burrows said. "He's implementing some new things, so I can't want to see how things work out."
Starting on August 19, Burrows will begin the pre-season before the season officially starts the first week in October. He hopes to improve on his performance last season when he only played in nine games for Fos Provence, averaging 20.1 minutes.
He shot 62.7 per cent from the field (32-51) and 56.5 from the free-throw line (13-23) for an average of 8.6 points with 3.3 rebounds, 0.9 assists, 09. steals, 0.1 block shots, 2.7 personal fouls and 1.9 turnovers.
In their total of 34 games, Fos Provence finished the season with a 9-25 win-loss record.
As for Bridgewater, he signed a Junior Pro contract with the FOS Provence Basketball Byers Club, which will make him eligible to compete on their Pro-A team against Burrows.
"At first, playing over there, it was rough," Bridgewater said. "But now everything is going fine. I'm looking forward to going back and keep growing as a player and an individual and helping my team to be better. We have a good team. It's competitive. We've had some ups and downs, but we feel we can only get better."
Bridgewater, 19, made the move to France after he completed his tenure in high school here with the Timberwolves from Anatol Rodgers. He returned home after he had a brief sting at Carol City High School in Miami, Florida. He also starred for the Bahamas junior national team.
"Coming from high school, the pros is not easy," Bridgewater said. "I had to develop a better jump shot and I had to get a lot more physical and stronger. I feel good about my improvement."
When he returns to France, the 5-11 point guard said he's anticipating a great season after playing with the Fos-sur-Mer Provence under-21 team because he put in a lot of extra work during the summer. "I just want to prove that I have the ability to play at the pro level," said Bridgewater, who had originally expected to go through the NCAA Division One rank in the United States, but after things didn't work out, he was overly excited that everything worked out in Europe.
During the past season for Fos-sur-Mer Provence Under-21, Bridgewater played in 24 games, averaging 29.9 minutes as they compiled a 6-28 win-loss record in their French League.
Bridgewater also averaged 16.0 points per game, shooting (113-220) 51.4 per cent from the field, (25-78) 32.1 per cent from the three-point line and (83-128) 64.8 per cent from the charity stripe with 4.2 rebounds, 4.3 assists, 3.3 steals and 5.8 turnovers with 3.2 personal fouls.