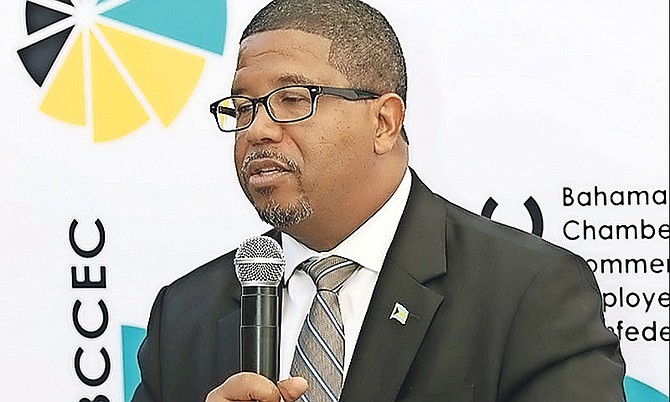 By NEIL HARTNELL
Tribune Business Editor
nhartnell@tribunemedia.net
Just 50 percent of companies listed on the registry are thought to be "active", the deputy prime minister said yesterday, as thousands of entities were informed of their removal.
KP Turnquest told Tribune Business that the "gazzetting" of their removal under recent reforms made to the Companies Act was intended to clean-up the registry and bring The Bahamas into compliance with its obligations under the Register of Beneficial Ownership Act.
"This is all a part of the beneficial ownership registry," he explained. "We have an obligation to know who the beneficial owners of all these companies are. A lot of them are companies that have been inactive and not met their commitments in terms of fees and filings. We can't find the people responsible, so are just striking them according to the law.
"They have to be registered. We need to know who's who and what they're trying to do; all of it. I believe there's about 80,000 companies on the registry and about 40,000 are regarded to be active."
Mr Turnquest was speaking after Sallyann Lockhart-Pratt, the registrar general, in newspaper advertisements yesterday confirmed that the 90-day notice period for companies to pay fees and submit filings more than 20 years' outstanding had expired.
With the relevant Companies Act amendment having come into force on April 30, Ms Lockhart-Pratt said she was now exercising her legal powers to "remove a company from the register which is, for more than 20 years, in default" without giving prior notice or warning. Those listed in the paper yesterday have now been struck from the Register of Companies as of that date.
Mr Turnquest told Tribune Business that the "scale" of yesterday's registry clean-up had likely never been seen before in The Bahamas. Suggesting that it was "a long time overdue", he added: "This is something that should have been happening on a continuous basis."
The Bahamas enacted the Register of Beneficial Ownership Act as part of the package of legislation required to satisfy the demands of the Financial Action Task Force (FATF) and Organisation for Economic Co-Operation and Development (OECD).
The law deals with access to beneficial ownership information for all corporate entities domiciled in this jurisdiction. Such information will not be publicly available, as access will be restricted to law enforcement authorities and financial services regulators as they seek to meet their international co-operation obligations.